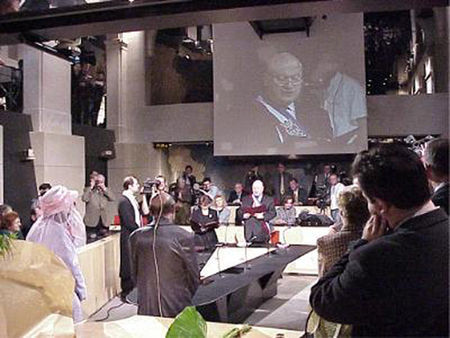 Le Techno-Mariage de Fred Forest et de Sophie Lavaud unis sur la
Toile du Net par André SANTINI Maire de Issy-les-Moulineaux en 1999 !
LE FUTUR D'INTERNET ET
DE L'ART NUMERIQUE
---
Vinton Cerf et Fred Forest au Forum ATENA sur le "Futur de l'Internet" à la Grande Arche de Paris, le jeudi 21 janvier 2010

http://www.youtube.com/watch?v=8cqG_ilHkcI
1999, il y a douze ans déjà ! Toujours Vinton Cerf, Sophie Lavaud et Fred Forest pour le Technomariage ... Le Technomariage, déjà, et toujours ... une oeuvre du Futur !
http://www.youtube.com/watch?v=_TTlwXW_qQ0
---
Art and Society: The Work of Fred Forest

Fred Forest



Listen to a 62 minute recording, or download the file



February 03-March 23, 2007
Slought Foundation
Reception on Saturday, February 03, 2007
Exhibition Openings Series



Slought Foundation, a non-profit organization rethinking contemporary art, is pleased to announce "Art and Society: The Work of Fred Forest," a retrospective exhibition about new media artist and pioneer Fred Forest, on display in the galleries from February 3, 2007-March 23, 2007. The opening reception will take place on Saturday, February 3rd, 2007 from 6:30-8:30pm. This exhibition has been curated by Osvaldo Romberg with the generous support of l'Institut National de l'Audiovisuel, the Cultural Services of the French Embassy in the United States, and the School of Arts and Sciences and the Department of English at the University of Pennsylvania.

Please note that a special seminar and conversation with artist Fred Forest concerning his practice will take place immediately before the opening from 5:30-6:30pm, and has been organized by Aaron Levy. The event will be jointly moderated by Michael Leruth and Jean-Michel Rabaté. An audio recording of this event is now available online. Click here to download the accompanying visual presentation.

It is also our pleasure to also announce a lecture by Fred Forest on January 30, 2007 at 7 pm at La Maison Française at New York University (16 Washington Mews, New York, NY 10003). For more information, contact maison.francaise@nyu.edu (212-998-8750).

Fred Forest, "For an aesthetics of communication" (Plus Minus Zero, 1985):

"I have always considered that the natural field of artistic production is the terrain of social activity. A field which may be enlarged and explored thanks to the new Communication technologies. This option upsets the holders of a fixed concept of aesthetics, who are incapable of grasping the obvious articulation between this type of practice, the concept of art, and a society in transformation. We are called upon to ask the question "Where are the frontiers of art situated?" It's a brave man who will stick his neck out! There is no frontier. Art is an attitude—a way of relating to something, rather than a thing in itself. There is an aesthetics of behavior, an aesthetics of gesture, just as there is an aesthetics of object. We have now to take a new category into account: the aesthetics of Communication. The media of this aesthetics are often immaterial: its substance comes from the impalpable stuff of information technology. In the sky above our heads, the electrical signals of this information trace invisible, blazing and magical configurations."




Image captions: Fred Forest, "La photo du téléspectateur," 1976; "Homage to Mondrian," Installation Plan, 1989; Detail from "La Bible Èlectronique," Center for Art and Technology, Reims, 1991; "Homage to Yves Klein," Museo del Sannio, Benevento, 1984.


Visit: http://www.webnetmuseum.org

Visit: http://www.fredforest.org

Visit: http://viande.fredforest.net

Read the full curatorial essay



Fred Forest is a communication artist and theorist (born in Algeria in 1933) who has worked at the forefront of interactive art and new media, sociology, and institutional critique for over forty years. His work, frequently immaterial and relational, raises questions about the nature and function of art in a market-driven age of information. Forest has exhibited and presented at institutions including the Museum of Modern Art, New York; the Centre Georges Pompidou, Espace Pierre Cardin, and the Museum of Modern Art of the City of Paris; the Venice Biennial; Documenta 6 and 8 in Kassel, Germany; the Foundation Miro, Barcelona; and the C.A.Y.C./Center for Art and Communication, Argentina. Fred Forest recently created the "Digital Street Corner" at the invitation of Art Basel Miami Beach 2005, in conjunction with the Cartier Foundation for Contemporary Art, Paris, and the Bass Museum of Art, Miami. This interactive network, artistic environment and "virtual happening" was co-created in real time by people on the internet, which Forest in turn choreographed and projected on an outdoor screen on the exterior wall of the Bass Museum (http://www.fredforest.com/). Also in 2005, Forest was commissioned by the National Audiovisual Institute (INA) of France to create "Memory Pictures," a website and installation, for the Great Hall in the French Ministry of Culture. In this work, the artist, digital avatars, and anonymous participants create collaborate collage works of art ( http://fredforest.ina.fr/). In 2006, Forest launched "The Biennale of the Year 3000," a participatory new media intervention staged against the "official" São Paulo Biennale that took the form of an exhibition without curatorial selection (http://www.biennale3000saopaulo.org/).

As early as 1967, Forest organized a series of participatory and community-based art activities which laid the foundations for the "Sociological Art" movement to follow. By 1969, Forest was known as the first French "plastic" artist to make extensive use of video art and carry out one of the first installations of this type at the Sainte-Croix Gallery in Tours, France. In 1972, continuing his research into this medium, he purchased media space in the French national newspaper "Le Monde," and launched a series of "press experiments" which extended from journalism to television and radio both in France and abroad. In 1973 his work in mass-communications won him the Communications prize at the XIIth Biennale in Sao-Paulo, Brazil, and in 1974 he co-founded the "Sociological Art Collective" whose activities were eventually featured in the 1976 Venice Biennale. Forest also participated in Documenta 6 in 1977, and exhibited a field frequency of 14,000 hertz in the Fredericanum in Kassel, Germany in Documenta 8 in 1987. Following the dissolution of his sociological collective, Forest staged various art actions and exhibitions, frequently involving the late Pierre Restany, such as The Artistic Square Metre, The Stock-Exchange of the Imaginary, at the George Pompidou Centre, and The Communicative Space at the Museum of Modern Art of the City of Paris. In 1982 Forest formulated the term "Communication Aesthetics," and in 1983 Fred Forest co-founded the International Group for Research into Communication Aesthetics, to explore new directions for art centered on problems of communication, new models of anthropological behavior, and our evolving relationship with a world conditioned by technological developments.

This program was made possible in part through the generous sponsorship of l'Institut National de l'Audiovisuel, the Cultural Services of the French Embassy in the United States, and the School of Arts and Sciences and the Department of English at the University of Pennsylvania
---