YACHTING FESTIVAL A CANNES
Rendez-vous du 6 au 11 septembre 2016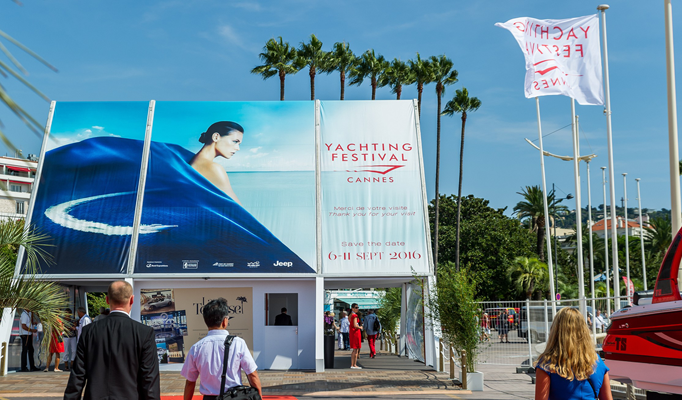 COMMUNIQUE DE PRESSE DU SALON YACHTING FESTIVAL A CANNES DU 6 AU 11 SEPTEMBRE 2016
Le Yachting Festival se tient chaque année au mois de septembre dans la scintillante baie de Cannes, dans un univers luxueux et élégant.

1er Salon de la saison nautique, le Yachting Festival est le plus important rendez-vous nautique à flots d'Europe. Il réunit les acteurs de la plaisance qui exposent pour cette ouverture de bal, leurs nouveautés mondiales en avant-première.

Exposants et visiteurs se donnent rendez-vous dans 2 ports d'exception de la French Riviera :


«Le Vieux Port » et « Le Port Pierre Canto ».
Dans ces 2 ports, près de 600 bateaux sont exposés à flots et à terre dont une centaine sont présentés en avant-première mondiale. Les sorties en mer proposées par les chantiers permettent aux nouveaux acheteurs de tester les plus beaux yachts du monde pour effectuer un choix avisé.

Nouveauté 2016 : Le Yachting Festival crée un nouvel espace dédié au luxe : La Terrasse.

Situé au départ des navettes VIP, ce secteur est exclusivement réservé aux acteurs du luxe et aux services haut de gamme.
Visiteurs, découvrez ce nouvel espace.
Exposants, retrouvez une présentation
ACCÈS
VIEUX PORT DE CANNES
ET PORT PIERRE CANTO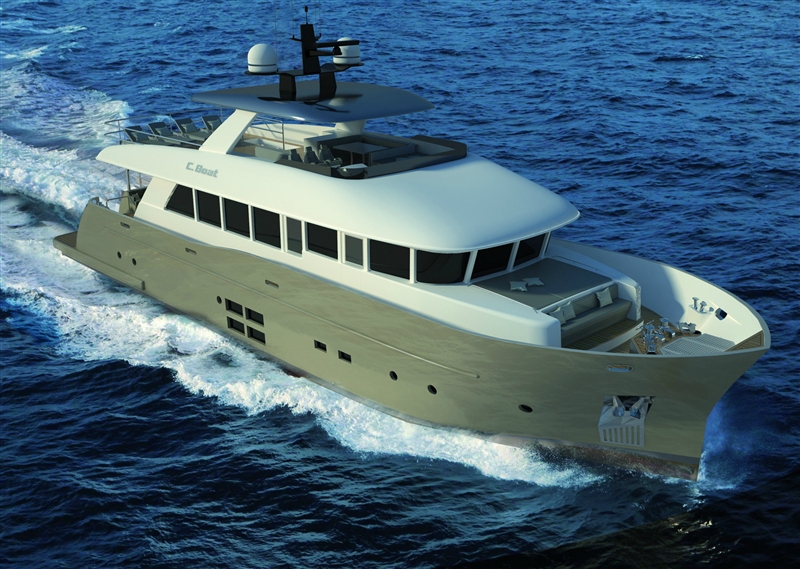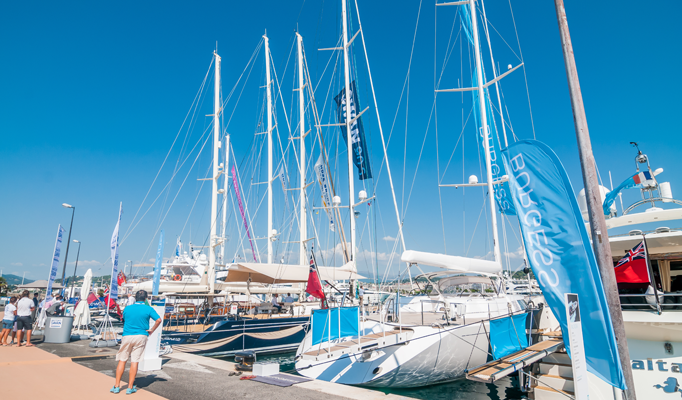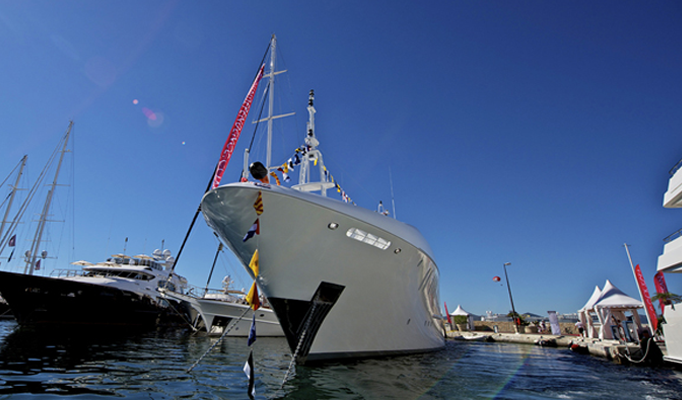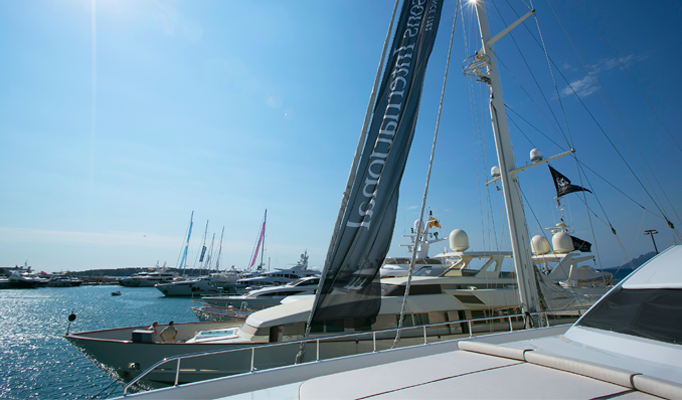 PHOTOS FOURNIES PAR LE SERVICE DE PRESSE OFFICIELLE DU SALON DE CANNES ( merci à eux )
**********************************************************
IN ENGLISH :
THE CANNES YACHTING FESTIVAL
1For six days, the Cannes Yachting Festival turns the city of Cannes, on the French Riviera, into the world capital of boating and yachting. Every year in early September, more than 50,000 enthusiasts fill the ports at each end of the Croisette to discover the world's most beautiful boats.
Recognised as one of the most important international boating events and Europe's largest on-water show, the Cannes Yachting Festival is known for its eclecticism and the wealth of vessels presented. Approximately 600 boats and yachts are exhibited by the world's greatest shipyards and most famous brokers. There is the mythical Riva, England's Sunseeker, France's Jeanneau Prestige, Bénéteau and Monte Carlo, alongside the USA's Chris Craft and many more: they can all be seen in Cannes. These brands come to debut their latest models before a knowledgeable audience representing every continent.
From standard production boats to custom vessels, a vast array of modest dinghies, sail boats, multihulls and the biggest, most luxurious yachts awaits on the Cannes waterfront.
Master mariners and casual skippers alike will find the perfect boat from 2 to 50 metres. For loyal water craft owners who want to freshen up their vessels with a makeover, the docks at the Cannes Yachting Festival will also host a bevy of equipment manufacturers.
There is a wide selection featuring on-board smart home solutions, new paints in subtle shades that are perfect for sprucing up hulls, the latest eco-friendly engines and more.
Cannes Yachting Festival 4/28
CANNES YACHTING FESTIVAL
SELECTIVE AND TOP-OF-THE-RANGE
The Cannes Yachting Festival is a premiere venue for selling boats and yachts. Its diverse, demanding clientele are looking for "the best" before sealing the deal.
NOTHING BUT LUXURY…
The Cannes Yachting Festival is the place for the most beautiful yachts in the world, for the most esteemed shipyards and renowned brokers and for the most luxurious and prestigious brands.
AN ECLECTIC DISPLAY ON THE WATER
Small and large yachts, sail boats and motorboats, monohulls and multihulls, toys, day boats, tenders, new boats and used yachts available for sale or lease... the Cannes Yachting Festival offers a wide variety of vessels ranging from 2.40 to 50 metres.
THE BIGGEST ON-WATER
BOAT SHOW IN EUROPE
The Cannes Yachting Festival is known as the leading event of its kind among professionals and visitors.
ICONIC DESTINATION
In addition to the lavish boats on the water, attendees can enjoy Cannes: the famous Croisette, the islands, the beautiful anchorages and everything else offered in this city prized by tourists all over the world. While taking in the Cannes Yachting Festival, visitors can cross the bay aboard the shuttles connecting the two ports that comprise the venue.
KICK-OFF TO THE BOAT MODEL YEAR
The Cannes Yachting Festival is the first show on the boating calendar, during which new models are launched (90 worldwide débuts out of 150 total premieres). It boasts more model launches than any other boating show!
INTERNATIONAL
- 58% of the 497 exhibitors come from abroad*.
- 47% of the 50,101 visitors come from abroad*.
A MAJOR ASSET: SEA TRIALS
Sea trials are special opportunities that give enthusiasts and future owners a chance to try out the new vessels. 80% of the boats can be taken out of the port for a test drive.
CUTTING-EDGE EQUIPMENT
The land stands at the Cannes Yachting Festival are devoted to engine manufacturers, equipment manufacturers and service companies. Seasoned visitors will explore the latest innovations in the world of boating.
OVERVIEW…
* OJD figures for 2015
Cannes Yachting Festival 5/28
CANNES YACHTING FESTIVAL
KEY FIGURES*…
497 exhibitors (58% from abroad)
48% of exhibitors are boat manufacturers/importers
52% represent other business sectors
(equipment manufacturers, brokers, service providers, etc.)
EXHIBITORS
579 boats from 2.40 to 46.30 metres
156 new boats and yachts showcased during
the Cannes Yachting Festival, including 87 world premieres
44 second-hand boats ranging from 22 to 45 metres
on display at Port Pierre Canto
134 yachts longer than 20 metres
103 sail boats (18%)
38 multihulls, including 7 motor yachts
BOATS
* 2015 figures
1977: INAUGURAL FESTIVAL
Cannes Yachting Festival 6/28
300,000 m2 of exhibition space
2 marinas
10 km of boats / 3 km of pontoons installed
4 through-ways: floating docks equipped with a motorised central section which opens to enable visitors to move freely around the port and vessels to head out for sea trials.
TECHNICAL INFORMATION
CANNES YACHTING FESTIVAL
KEY FIGURES*…
VISITORS
50,101 visitors
including almost 25,000 from all over the world
* 2015 figures
Cannes Yachting Festival 7/28
CANNES YACHTING FESTIVAL
PORT PIERRE CANTO
VIEUX PORT
TWO PORTS
Positioned at each end of the famous Croisette, the Cannes Yachting Festival uses Cannes as a gorgeous backdrop to showcase these seafaring gems from around the planet.
Passerelle
Embarcadère
ENTRÉE/SORTIE
Entrance/Exit
Quai Max Laubeuf
ENTRÉE/SORTIE
Entrance/Exit
VIP / Presse / Professionnels
Palais des Festivals
Traversante
Traversante
PONTON 4
PONTON 3
PONTON 2
PONTON 1
Embarcadère
ENTRÉE/SORTIE
Entrance /Exit
Port Pierre Canto
ENTRÉE
SORTIE
Entrance
Exit
VOITURES
OFFICIELLES
Official cars
LA CROISETTE
VIP
Cannes Yachting Festival 8/28
LE VIEUX PORT
This area at the main entrance of the Cannes Yachting Festival includes the interior of the Palais des Festivals and the outdoor space on the waterfront. Head inside for boat builders, architects, the Services & Design zone, banks, brokers and shipping agents, boating service companies and businesses specialising in interior décor, furnishings and high-end accessories.
Look for two themed zones outside:
- Tender zone: on-land displays of elegant day boats used to ferry passengers between port and yacht.
- Toys zone: this area facing the sea features the latest nautical toys, a steadily growing market in the yachting industry.
There is a panoramic restaurant on the roof of the Palais that is open to all visitors. It features views of the Vieux Port and the yachts on display on one side, and of the Croisette and the Bay of Cannes on the other.
The pier has two sections: North and South. Both will feature world-renowned shipyards, the majority of which will present motorised vessels that are 20 to 40 metres long. The docks house reception areas for the shipmakers, engine manufactures, various suppliers, service companies and marinas.
The Super Yachts Extension contains around 40 of the biggest yachts in the Vieux Port. This year, it will host the Majesty 155 (47 metres) presented by the shipyard Majesty Yachts. Meanwhile, the portion of the Super Yachts Extension located on the through-way will display floating Tenders.
8 MAJOR AREAS
Cannes Yachting Festival 9/28
LE VIEUX PORT
The Quai Max Laubeuf presents a variety of yachts and motorboats on the water, as well as several small motorboats (8 to 12metres) displayed on land. It also includes the RIB Village with 80 inflatable and semi-rigid
boats. For the first time this year, a land marina will be set up at the entrance to the Quai (for more details, see '2016 News and Trends' on page 14).
The Quai Saint Pierre is dedicated to the largest sail boats (10 to 30 metres) and to motorboats up to 18 metres. There are reception areas for shipyards, small engine producers and sail boat equipment manufacturers along the docks. La Terrasse, the new ultimate rendez-vous for luxury brands (See page 11)
La Pantiero will host:
- The nautical accessories and equipment village (fishing supplies, marine optics, etc.).
- Service companies (insurance, financing, etc.)
On the water, visitors can explore high-end motorboats, as well as open deck, sport fishing and fly-bridge boats.
Visitors will also get a look at a brand new space:
'Les Pontons de la Pantiero' with more than 40 boats measuring 9 to 24 metres.
The Catamaran area will have around 40 multihulls ranging from 10 to 30 metres. It is the biggest collection of cabin multihulls in the world. This year, the zone reserved for these vessels has been moved to Quai de la Pantiero (for detailed information, see '2016 News and Trends' section on page 12).
Cannes Yachting Festival 10/28
PORT PIERRE CANTO
2016 marks the tenth anniversary of the Brokerage & Charter Area
at the Cannes Yachting Festival on the Port Pierre Canto docks at the other end of the famous Croisette. It can be reached by a short, sevenminute boat ride from the old port (either in public shuttle boats departing the Super Yacht Extension or in VIP shuttles departing the VIP
pontoon). Port Pierre Canto is the section reserved for the used yacht market, which includes options for sale or charter. The sailing yachts and motor yachts presented in this space by the biggest international brokers and renowned charter companies are at least 22 metres long.
These large water craft offered for sale or lease are well maintained by their crew, whose men and women are passionate about their profession and thoroughly acquainted with their yachts, the main shipyards and the boats available on the market.
Visitors and future renters or owners will benefit from the sage advice of brokers who will assist them with their plans as they fulfil their boating dreams under the best possible conditions.Leasing, or chartering, is often an intermediate step before buying a boat. It helps clients make the right decision between motorboat versus sail boat or monohull versus multihull, or determine the perfect size to accommodate their family... and to try out the boat!
BROKERAGE & CHARTER AREA
10TH
ANNIVERSARY
Cannes Yachting Festival 11/28
2016 NEWS
AND TRENDS
To round out an already rich offer and to confirm its top-of-the-range positioning, the Cannes Yachting Festival is making more waves with the launch of a new area devoted to luxury brands: La Terrasse.
Adjacent to the festival beach, La Terrasse boasts a 180-degree view of the biggest yachts on display at Vieux Port, the Bay of Cannes, the Croisette and the Lérins Islands. The scenic La Terrasse stretches alongside the most prestigious yachts, allowing visitors to explore the exclusive world of the luxury brands on hand to showcase their expertise and new products (automobiles, watches, jewellery, table arts, leather goods, design, wine and spirits, etc.).
This new area built on a pier will create a unique experience for Cannes Yachting Festival attendees:they can satisfy their taste for these exceptional products and admire the unique craftsmanship and art de vivre of these luxury brands.
THE NEW DESTINATION FOR LUXURY BRANDS Lounge VIP Golf
Cannes Yachting Festival 12/28
2016 NEWS AND TRENDS
These shipyards will exhibit around 40 multihulls: five world premieres, three European premieres and five French premieres.
THE NEW CATAMARAN AREA
To meet the demands of its exhibitors, the Cannes Yachting Festival is making more room for multihulls and creating a new catamaran display approach with:
- more space on land for shipmakers
- a dedicated dock across from Quai de la Pantiero.
A large marina on the water right in the middle of the exhibition will host more than 40 vessels from the biggest French and foreign shipyards. Visitors will be able to tour this new space thanks to a new through-way
(pontoon) that gives them a close-up look at these giants of the ocean!
On land at the Quai de la Pantiero, some vessel manufacturers will share a large exhibition space to meet with their customers.
AVENTURA CATAMARANS Tunisia
CATANA France
DREAM YACHT CHARTER USA
FOUNTAINE PAJOT CATAMARANS France
HH CATAMARAN China
LAGOON France
LEOPARD CATAMARANS France
NAUTITECH France
NEEL TRIMARANS France
O YACHTS Latvia
OUTREMER YACHTING France
OVERBLUE YACHTS Italy
OXYGENE YACHTS France
PRIVILEGE MARINE France
QUISITE YACHTS South Africa
SOLARWAVE YACHTS Switzerland
SUNREEF YACHTS Poland
SWISS CATAMARANS YACHTS Switzerland
WAVE 58 Poland
List as at 6 June 2016
Cannes Yachting Festival 13/28
2016 NEWS AND TRENDS RIB AREA
Accessible, reliable, fast and sturdy: rigid inflatable boats are one of the most popular boat categories right now and one of the easiest to master. Come explore this smart option at the Cannes Yachting Festival, during which RIBS will be honoured with an expanded exhibit area!
As they arrive at the Festival, visitors will see an initial selection of rigid-hulled inflatable boats inside the Palais, before discovering more offerings - on land and water - at Quai Max Laubeuf.
This dock will have an entire village devoted to this
rapidly growing segment with an easy-to-recognise icon.
ALEMDAR MARIN Turkey
AVON France
BLACK FIN France
BRIG MED France
CHAMPION MARINE Italy
CONTEST YACHTS Netherlands
EXTENDER Italy
GROUPE YB China
IN WATER Italy
JOKER BOAT France
LEVI RIBS Italy
LOMAC Italy
MAGAZZU YACHTING Italy
MASTER GOMMONI Italy
MEDEXTREME Italy
MV MARINE SRL Italy
NORTHSTAR Turkey
NUOVA JOLLY France
PARTON YACHTING GOLDFISH Norway
PAUL NAUTIC France
RIBITALY Srl Italy
SACS SRL Italy
SCANNER FRANCE France
SEA WATER Italy
TECNORIB Italy
WIMBI BOATS Australia
YAMAHA MOTOR FRANCE France
ZAR FORMENTI Italy
List as at 6 June 2016
These ship builders will exhibit: nine world premieres, four European premieres and 10 French premieres.
Cannes Yachting Festival 14/28
2016 NEWS AND TRENDS VISITOR CATWALK TENTS QUAI MAX LAUBEUF MARINA
Located at the entrance to Quai Max Laubeuf, the marina will display boats up to 12 metres long on dry land; a catwalk running along the stern side of the boats will enable attendees to get a closer look.
The marina has two major advantages:
- For exhibitors, it is an original way to present their boats with high visibility vis-à-vis professional and casual attendees,
- For visitors, it provides a bird's-eye view of the boats. From a technical standpoint, installation will be easier for exhibitors because the boats will be positioned on their trailers.
MARINA
Cannes Yachting Festival 15/28
2016 NEWS
AND TRENDS
Inspired by the success of the 2015 launch, the Cannes Yachting Festival is organising the second edition of the Concours d'Elegance on Thursday, 8 September 2016, at 5:00 p.m.
The Concours d'Elegance is limited to Festival exhibitors, owners and collectors of motorboats and day boats under 12 metres. It will be held in the historic setting of the Vieux Port in Cannes around the VIP pontoon and the Festival beach. This one-of-a-kind parade is an opportunity to delight in the pageantry of vintage and modern day boats and to pay tribute to the rich history of boating on the French Riviera.
The vessels and their splendid crews will parade for an audience of visitors, journalists, professionals and connoisseurs, but especially for a jury of experts chaired by Annette Roux.
The jury will evaluate the following aspects: the quality of the boat's design and restoration, its state of preservation and history, the rarity of the model, the elegance of the crew and showmanship.
After the parade, participants, partners and journalists will be invited to the awards ceremony at the Cannes Yachting Festival VIP Club at 7:00 p.m. Several awards will be presented by the event's partners.
The boats, limited in number to 20, will be divided into two categories:
- Boats built before 1980,
- Boats built after 1980.
Judging criteria:
- Boat design and restoration,
- Boat rarity and history,
- Elegance of crew and showmanship.
A prize will be awarded to the most elegant women. A special prize will also be awarded the jury's favourite.
CONCOURS D'ELEGANCE
Cannes Yachting Festival 16/28
CONCOURS D'ELEGANCE PARTNERS
Video: best of the 2015 edition
Participation in the Concours d'Elegance is free The registration form is available online at the following link >
The list of vessels participating in the second edition of the Concours d'Elegance will be announced in late August after a pre-selection by the jury.
INSCRIPTION
2 ND E D I T I O N
Cannes Yachting Festival 17/28
2016 NEWS
AND TRENDS
THE RIVIERA CARD:
A UNIQUE VIP PROGRAM
The Riviera Card is an exclusive programme that develops a unique, personalised experience for visitors looking for a superior level of service compared to basic admission. Riviera Card holders can enjoy highend services, such as a guided tour of the Cannes Yachting Festival aboard the organiser's tender to admire the finest yachts from the water and priority access to the yachts on display. These special privileges are designed for a demanding clientele and for seafaring neophytes who would like individual service to learn about the extraordinary world of boating. For the duration of their stay at the Cannes Yachting Festival, these visitors will also be able to use additional perks, such as a lunch at the panoramic restaurant, a helicopter ride and priority access to official Porsche courtesy vehicles and to the VIP Club. The VIP Club on the roof of the Palais des Festivals is a fantastic space for visitors to relax. They will enjoy sipping a flute of champagne from our partner Louis Roederer or a glass of By.Ott rosé from Domaines Ott, as they soak in panoramic views of the yachts in the Vieux Port.
The Riviera Card is valid for two people and allows you to reserve a table (at an additional cost) for the famous Yacht Parade that will take place on Saturday, 10 September on the Carlton Beach.
2016
Cannes Yachting Festival 18/28
FESTIVAL PARTNERS
As it gears up for its 39th edition, the Cannes Yachting Festival has signed new partnerships with automaker Porsche, Studio Harcourt Paris, Louis Roederer champagne and Façonnable. These internationally respected brands will further enhance the unsurpassed luxury experience for visitors to the Festival. The new partners are joining the ranks of those already affiliated with the Festival: Lise Charmel, Wajer & Wajer, Azur Hélicoptère and Fenwick-Tohatsu.
OFFICIAL PARTNERSHIP
THE ART OF LIVING
THE ART OF TRAVELLING
Cannes Yachting Festival 19/28
OFFICIAL PARTNER
At first, I looked for my dream car, but could not find it. So I decided to build it myself.' Ever since the firm was founded in 1948 by Ferry
Porsche, this ethos has guided all our creations. Following several decades of history and success, Porsche reinvented itself by marrying
tradition and innovation and blending style and practicality. These values can be found in another sphere that inspires just as much passion: yachting.
This is why Porsche decided to become involved in the Cannes Yachting Festival: to share its values and approach to sports car design with a luxury-savvy audience. Furthermore, the pleasure of travelling can be enjoyed on both land and sea. Porsche is therefore the event's official carrier, providing a fleet of vehicles under the banner of the Cannes Yachting Festival.
Cannes Yachting Festival 21/28
FESTIVAL PARTNER
Founded in 1776 and owned by the same family since 1819, Louis Roederer is one of the last great champagne producers to remain independent. For the first time, Louis Roederer Champagne is partnering with the Cannes Yachting Festival, where it will present its vintage Brut Premier. 'The freshness, finesse, and liveliness of Brut Premier invite you to celebrate. Its structured texture, richness and length resolutely recall wine. It is complete, complex, both powerful and modern, and one of the great classics' — Jean-Baptiste Lécaillon, Cellar Master of Louis Roederer Champagne. Like their parent company, Louis Roederer, Domaines Ott* are 'tireless researchers', on a permanent quest to find that special touch that will turn a good rosé into a promise of elegance and joie de vivre. This promise is fulfilled by a new wine baptised 'BY.OTT'.
http://www.louis-roederer.com/en
Cannes Yachting Festival 22/28
FASHION PARTNER
LISE CHARMEL's 2016 Swimwear collection offers a complete range of swimwear and beachwear of a very distinctive kind: her new pieces show off women's figures creatively and with the utmost good taste. Elegance and a wide variety of choices are the two directions brilliantly taken by her latest creations. Vivid colours, from deep indigo to sunshine yellow and from rainforest green to orchid, are mixed within the ranges to create original and dazzling combinations. Variety is also to be found in the cuts, which transform the feminine figure so that the summer body comes back into its own with renewed energy and perfect femininity!
In her lingerie and corsetry collections, LISE CHARMEL combines the most beautiful fabrics with quality trimmings for a transformative effect: silk and Calais lace, embroidery and guipure, rhinestones and jewels are the hallmarks of the brand's unique sophistication. In summer as in winter, each of the new collections is made to glorify women in their romantic, sexy or sensual moods. With LISE CHARMEL, every woman
will find the lingerie to transform her figure!
Cannes Yachting Festival 23/28
PARTNER Façonnable, Style in the French Riviera
From its old roots as a family tailoring shop in Nice, France, Façonnable has embodied the art of tailoring and skilled workmanship for more than 60 years. The expertise is based on the tradition of taking pleasure in wearing beautiful, high-quality clothing, which will always remain the sign of modern chic.
The French Riviera is a region of light and bright colors which serves as an endless source of inspiration for the brand. Colorful designs, precious fabrics and noble tailoring are the strengths in the craft of Façonnable.
Cannes Yachting Festival 24/28
PARTNER
"Everything you wish, everywhere you are"
For over 80 years Interni has been the reference point for the design and furnishing of high-level homes, office, contract projects and outdoor in Italy. Thanks to the solidity of its structure Interni can boast the collaboration of the most prestigious
design brands, both Italian and International. Attention to details, passion for luxury, 10 showrooms in which you will find highly trained design professionals and a logistics facility like no other. All this has made Interni your best reference
in furnishing not only your houses, but your Yacht as well.
Cannes Yachting Festival 25/28
ABOUT THE
CANNES YACHTING FESTIVAL
The Cannes Yachting Festival, property of the Fédération des Industries Nautiques (FIN) is organised by Reed Exhibitions France (REF). The Festival is part of the Culture, Luxury and Leisure Division at REF, which specialises in organising consumer exhibitions such as The Nautic.
- Paris International Boat Show, FIAC, Paris Photo and the Salon Piscine & Bien-être ('Pool & Wellness Show').
Cannes Yachting Festival President
Annette Roux
Fédération des Industries Nautiques
President: Yves Lyon-Caen
Vice-President: Jean-Pierre Goudant
Secretary General: Fabien Metayer
Reed Expositions France
President : Michel Filzi
Managing Director: Michel Vilair
Director, Water & Leisure Division: Alain Pichavant
Show Manager: Sylvie Ernoult
Official Partner
Cannes Yachting Festival 26/28
ABOUT THE FRENCH NAUTICAL INDUSTRIES FEDERATION
The French Nautical Industries Federation (FIN) aims to defend, represent and promote the different sectors of French nautical industries, both at home and abroad. The FIN currently has more than 600 members, drawn from eleven nautical industry and service professions, representing more than 80% of the industry's urnover:
Boatbuilders
Equipment manufacturers
Engines manufacturers
Grande plaisance
Inland waterway rental company
Maritime rental company
Trade companies
Maintenance companies
Service providers
Boardriding sports companies
Outdoor recreation companies
As the regional and national public authorities privileged interlocutor, the FIN
assists and advises companies in legal, social, economical, technical and environmental matters. It also informs the general public and the media.
At the international level, the FIN is an active participant in the growth of the
nautical sector. It is a charter member of the European Boating Industry, which represents the interests of the European leisure marine industry and its members. The FIN is also member of the ICOMIA, the International Council of Marine Industry Associations.
The Federation owns the Nautic (the Paris International boat show) and the Cannes Yachting Festival. The FIN also supports le Grand Pavois de La Rochelle and runs coordinated actions, in partnership with Business France, to facilitate the presence of its members in major or growing international boat shows.
At the environmental level, the FIN has for some years been running various
initiatives aimed at promoting awareness of environmental concerns throughout the lifecycle of boats, in particular through its "Bateau BME" Program.
In 2009, the FIN also created the «Association for Eco-responsible Boating» (APER), to set up a French network for dismantling and recycling recreational vessels that have reached the end of their useful lives, and the treatment network of expired pyrotechnic signals.
The FIN is a founder member of the French Nautical Leisures Confederation, which brings together the forces of the boating community . The Confederation wants to make its voice heard in the areas of particular interest sharing, usage, management and development of marine spaces , lake and river.
Fédération des Industries Nautiques
Port de Javel Haut
75015 PARIS • France
Tel. +33 (0)1 44 37 04 00
Fax. +33 (0)1 45 77 21 88
E-mail: info@fin.fr
Cannes Yachting Festival 27/28NN
ABOUT REED EXPOSITIONS FRANCE
Reed Expositions France is a subsidiary of Reed Exhibitions (Reed), the world's leading events organiser, with a staff of 3,700 employees worldwide.
Reed Exhibitions organises each year over 500 events in 43 countries bringing together more than 7 million participants. The wide range of events includes trade and consumer exhibitions, conferences and meetings, primarily in the following markets: Aerospace & Marine, Building & Construction, Business Services, Design; Engineering, Manufacturing & Distribution; Environment & Natural Resources, Food, Homes, IT & Telecoms; Medical, Health & Beauty; Property & Real Estate; Publishing, Media & Communications; Recreation and Travel.
As a member of the RELX Group, a world-leading provider of information and analytics for professional and business customers across industries, Reed delivers contacts, content and communities with the power to transform its customers' business. On the French market, Reed is today France's leading show organiser, with 60 events and two subsidiaries: Reed Midem and Reed Expositions France.
Reed Expositions France operates in 20 industry sectors, with 51 websites and 52 trade and consumer events in the fields of Art (FIAC, Paris Photo), Books & Publishing (Paris Book Fair), Building & Construction (Batimat, interclima+elec, idéobain…), Energy (WNE-World Nuclear Exhibition), the Environment (World Efficiency, Pollutec,...), Franchise (Franchise Expo Paris), Food Service & Hospitality (Equip'Hôtel,…), Healthcare (Cardiostim, JIBJournées Internationales de Biologie), Industrial Subcontracting (Midest), Interior Design (Maison&Objet, organised by Safi, a subsidiary of Reed Expositions and Ateliers d'Art de France), IT (Medpi, Documation,…), Jewellery (Bijorhca Paris), Marketing (MPV Marketing
at Retail,…), Professional Audiovisual Technology (Satis), Security & Safety (Expoprotection, APS), Sports & Recreation (Nautic - Salon Nautique de Paris, Cannes Yachting Festival, Body Fitness, Comic Con Paris,…), Transport & Logistics (SITL, Intralogistics,…), Tourism (IFTM -Top Resa,…) and Visual Communication (Viscom).
More than 24,400 companies and 1.58 million buyers from France and abroad are customers of Reed Expositions France events.
For further information, please contact:
REED EXPOSITIONS FRANCE
52-54, quai de Dion Bouton, 92806 Puteaux Cedex, France
Tel. +33 (0)1 47 56 50 00 – email: info@reedexpo.fr
Reed Expositions France www.reedexpo.fr
Reed Exhibitions :
Cannes Yachting Festival 28/28