PUBLICITY FREE FOR

CULTURAL TOURISM :

WASHINGTON THE CAPITAL
OF THE UNITED STATES
http://capitalregionusa.co.uk/Experience-Washington-DC
http://capitalregionusa.fr/Experience-Washington-DC
http://capitalregionusa.mx/DECOUVRIR-WASHINGTON-DC
Officially founded on July 16, 1790, Washington, DC is unique among American cities because it was established by the Constitution of the United States to serve as the nation's capital. From the beginning it has been embroiled in political maneuvering, sectional conflicts, issues of race, national identity, compromise and, of course, power.
History

The choice of Washington's site along the Potomac and Anacostia Rivers resulted from a compromise between Alexander Hamilton and northern states who wanted the new Federal government to assume Revolutionary War debts and Thomas Jefferson and southern states who wanted the capital placed in a location friendly to slave-holding agricultural interests.

George Washington, the first president and namesake of the city, chose the site and appointed three commissioners to help prepare for the arrival of the new government in 1800. In 1800 the federal government consisted of 131 employees. Pierre Charles L'Enfant designed the city as a bold new capital with sweeping boulevards and ceremonial spaces reminiscent of Paris of his native France. Benjamin Banneker, a self-taught African-American mathematical genius, provided the astronomical calculations for surveying and laying out the city. The full development of Washington as a monumental city, however, did not come until a hundred years later when the McMillan Commission updated its plan to establish the National Mall and monuments that most visitors to Washington now know.

During the War of 1812, most of the city was burned to the ground. British forces invaded the city and burned public and government buildings, including the White House, in response to American forces invading York, now known as Toronto, and burning most of it to the ground. However, the British left the residential areas untouched and also spared the home of the Commandant of the Marines, located on Marine Barracks, as a sign of respect and is now the oldest government building in continuous use in the nations' capital. The Patent Office and the Post Office were also spared because of Dr. William Thornton, Superintendent of Patents, pleading with British officers that the knowledge lost therein would be a disservice to mankind.As a southern city, Washington has always had a significant African- American population. Before the Civil War, the city was home to a growing number of free blacks who worked as skilled craftsmen, hack drivers, businessmen and laborers. It also included enslaved African Americans and was the site of slave auctions before they were outlawed in the city in 1850. Slaves owned in Washington were emancipated on April 16, 1862, nine months before Lincoln's Emancipation Proclamation of January 1, 1863. Washington remained home to a large African-American population who created vibrant communities and championed civil rights despite racial segregation and prejudice. Duke Ellington was born and raised in Washington's Shaw neighborhood and played in his first band here.

Washington, DC, was envisioned by its founders as a commercial center as well as the seat of government. The location on the Potomac River was chosen, in part, because it already included two existing port towns of Georgetown, Maryland and Alexandria, Virginia which served as regional shipping centers for tobacco and wheat. When Alexandria returned to Virginia in 1846, residents argued that inclusion within the Federal District of Columbia hurt business and the city of Washington would never need that much room to grow.

But after the Civil War, Washington did grow, eventually absorbing Georgetown and the surrounding farms and rural areas beyond L'Enfant's original plans for the city. The initial boundary of Washington City was Florida Avenue, originally called Boundary Street. The first neighborhoods were those that grew up around the Capitol (Capitol Hill), the Center Market (Downtown), and the White House (Lafayette Square). The expansion of streetcar lines in the mid-19th century spurred creation of new suburbs. Two early suburbs, LeDroit Park and Anacostia, both began as developments that excluded African Americans and later became predominantly African-American communities.

Wars and national events have always resulted in the growth of the Federal government and increases in population. During the Civil War, Washington was an armed encampment with soldiers bivouacked everywhere and public buildings serving as hospitals. Bread for soldiers was baked in ovens located on the White House grounds. During World War II, "government girls" were recruited to fill office jobs to replace men who had gone to war.

Washington is also a cosmopolitan city. While it has always had foreign delegations from the countries of the world it also boasts an increasingly diverse ethnic population. A growing Latino population represents every Central and South American country with a particularly large community of Salvadorans. A large Ethiopian population has resulted from the political turmoil there. New ethnic groups have brought new restaurants, as well as new residents. While DC lost residents to surrounding suburbs in the 1990s, new housing and urban revitalization is now attracting people back to the city for a downtown renaissance of housing, offices, entertainment and nightlife.

As the capital of the world's most powerful democracy, it is ironic that residents of Washington lack full self government and limited self government was only restored in 1974 after nearly 100 years with an appointed commissioner system. Representation in Congress is limited to a non-voting delegate to the House of Representatives and a shadow Senator. 1964 was the first Presidential election in which Washington residents were able to vote.

After 217 years as the nation's capital, Washington is a place brimming with a unique history of its own. It has developed as a complex and layered city with multiple personalities. As home to the federal government, it has attracted a diverse mix of government workers, members of Congress from every state, foreign emissaries, lobbyists, petitioners and protestors. While elected and appointed officials come and go giving the city its reputation as a transient community, many of the city's residents have called Washington home for multiple generations. Their stories give Washington its distinctive character as both a national and local city.

Fact Sheet

Leadership
Adrian M. Fenty, Mayor


Washington, DC Demographic information (Source: US Census Bureau, 2006, Bureau of Labor & Statistics, 2004-2005 and Greater Washington Initiative Analysis, 2007)
Population: 581,530
47% male and 53% female
46% of DC residents hold a Bachelor's Degree or higher (compared to 27% of US of population).
DC's population is 55% Black/African-American (compared to 12% of US population) and
8% Hispanic/Latino (compared to 14% of US population).
Median age: 35
Median household income: $61,105
Greater Washington has the largest percent of adults with advanced degrees (19%) in the U.S., more than twice the national average. 43.9% of local women have a Bachelor's degree or higher, the highest percentage in the nation.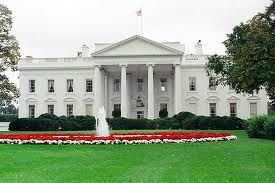 The White HOUSE


Symbols
Flower: American Beauty Rose
Bird: Wood Thrush
Tree: Scarlet Oak
Motto: "Justitia Omnibus," which is Latin for "Justice for All."
Song: "Washington," written by Jimmie Dodd, a former Mouseketeer, in 1951.
Seal: DC's official seal has a picture of a woman, who represents Justice, hanging a wreath on a statue of George Washington.
Hotel Facts
There are approximately 110 properties and 27,500 hotel rooms located in Washington, DC. The Greater Washington Metropolitan Region is home to approximately 600 properties and 95,000 rooms (including those located within DC proper).
There are 18 properties currently in the construction pipeline that are expected to be delivered in 2010 and beyond, including 4 that are currently under construction.
DC's hotel occupancies reach their peak in March through June and September through October. Average daily rates also reach their highest levels during these months.
Restaurant Facts
There are more than 100 restaurants located in downtown Washington, DC alone, not including fast food, delis and take out.
Forty restaurants in the metropolitan region received Zagat scores of 25 or higher (out of a possible 30).
Called "one of the most exciting restaurant cities on the East Coast" by Travel + Leisure, DC's culinary distinctions include James Beard award-winning chefs, AAA Five Diamond ratings and restaurants included on Esquire's list of the "Best New Restaurants in America."
Visitor Statistics
DC welcomes approximately 15 million visitors each year, generating an estimated $5.24 billion in visitor spending for the city alone.
Approximately 1.2 international visitors come to DC annually. Top countries of origin include: United Kingdom, Germany, Latin America (Brazil, Argentina, Mexico), Japan, India, South Korea, Nordic (Denmark, Finland, Norway, Sweden), Australia, Italy and France.
For additional visitor statistics, visit the research and statistics page.
Attractions
Top attractions include:

Smithsonian's: National Museum of Natural History (7 million visitors)
National Air & Space Museum (6 million visitors)
National Museum of American History (3 million visitors)
National Zoological Park (3 million visitors
Lincoln Memorial (4 million visitors)
World War II Memorial (4 million visitors)
Vietnam Veterans Memorial (4 million visitors)
Korean Memorial (3 million visitors)
FDR Memorial (3 million visitors)
Rock Creek Park (2 million visitors)

DC is also home to 4 major sporting event venues with 167,000 total seats and 8 major professional teams including the Redskins, Wizards, Mystics, Nationals, United and Capitals
There are more than 40 performing arts/theatre venues with 31,000 total seats.
More than 50 private tour companies offer nearly 40 regularly scheduled tours.
Transportation

Airports
There are 3 DC-area airports - Ronald Reagan National Airport (DCA), Washington Dulles International Airport (IAD) and Baltimore/Washington International Thurgood Marshall Airport (BWI)
These airports service more than 60 million passengers each year, 31 million of which deplane in the DC area.
DCA and Dulles service more than 90 domestic destinations and have 423 weekly departures to 21 international destinations.
BWI services 61 destinations (319 flights) and has daily departures to 8 international destinations.
Train
Union Station in DC is home to Amtrak and multiple commuter rail services; 3.8 million Amtrak passengers travel through DC each year
Public transportation
Metrorail & Metrobus

The Metro system is the nation's third-largest (with 5 rail lines, 106 miles of track and 86 stations) and the nation's second-most utilized transport system (carrying 206 million riders each year)
For hours, fares and station information, visit wmata.com.

DC Circulator:

3 bus routes service 2.2 million riders each year, connecting Union Station with Georgetown, the National Mall with Walter E. Washington Convention Center, and a seasonal loop around the National Mall, priced at just $1 per ride.
For hours, passes and route maps, visit dccirculator.com.

Taxis:

Beginning in April 2008, the DC taxi cab system will convert to a meter system.
Fares begin at $3, plus 25 cents per each additional 1/6 mile and 25 cents per minute of wait time, $1.50 per additional passenger.
Cab fare from Ronald Reagan National Airport (DCA) to Walter E. Washington Convention Center will cost $11-15.
Green Initiatives
70 percent of land in Washington, DC is controlled by the National Park Service. There are 250,000 acres of parkland in the Greater Washington Metropolitan area.
In 2007, DC was named the most walkable city in the US in a study by the Brookings Institute.
In late 2006, City Council passed an initiative making the nation's capital the first major city to require developers to adhere to guidelines established by the U.S. Green Building Council.
The Washington Nationals Ballpark is striving to be the country's first green-certified ballpark
DC's hotels have implemented green initiatives, including wind power, renewable energy credits, recycling and adopt-a-park programs with neighborhood green spaces.
For more information, click here to learn about the green experience in DC.
International DC
84,000 DC residents (15%) speaking a language other than English at home
74,000 DC residents (12%) are foreign-born
The Greater Washington region is home to 400 international association, 700 internationally owned companies and more than 150 embassies and international cultural centers.
Sales Tax
DC sales tax: 5.75%
DC hotel tax: 14.5%
DC restaurant tax: 10%
Maryland: Sales tax is 5%. Hotel tax varies by county with most counties averaging between 5% and 8%.
Virginia: Sales tax is 5%. Hotel tax varies by county with most counties averaging between 9.5% and 10%.
Climate
DC has a generally temperate climate, with pleasant springs and autumns, and mild winters with approximately 17 inches of seasonal snowfall.


| | | | |
| --- | --- | --- | --- |
| | Average Low (Fahrenheit) | Average High (Fahrenheit) | Average Precipitation (Inches) |
| January | 24 | 43 | 3.57 |
| February | 26 | 47 | 2.84 |
| March | 33 | 55 | 3.92 |
| April | 42 | 66 | 3.26 |
| May | 52 | 76 | 4.29 |
| June | 62 | 84 | 3.63 |
| July | 67 | 89 | 4.21 |
| August | 65 | 87 | 3.90 |
| September | 57 | 80 | 4.08 |
| October | 44 | 69 | 3.43 |
| November | 36 | 58 | 3.32 |
| December | 28 | 48 | 3.25 |
Industry
Leading employers (with number of employees) (Source: Washington Business Journal Book of Lists, 2008)
Lockheed Martin (22,000)
Northrup Grumman (20,000)
SAIC (16,000)
Inova Health System (15,000)
University of Maryland (15,000)
Marriott International Inc. (14,500)
MedStar Health (13,000)
Verizon Communications (13,000)
Booz Allen Hamilton (11,000)
Largest Colleges/Universities (by number of undergraduates) (Source: Washington Business Journal Book of Lists, 2008)

Northern Virginia Community College (60,000)
University of Maryland, College Park (25,000)
George Mason University (18,000)
The George Washington University (10,000)
Howard University (10,000)
Georgetown University (7,000)
American University (6,000)
University of the District of Columbia (6,000)
Strayer University (6,000)
The Catholic University of America (3,000)
Marymount University (2,000)
Gallaudet University (1,000)
Additional Resources:
Find more information about DC's history, industry and neighborhoods through these organizations and agencies.

---
---
---
---
http://en.wikipedia.org/wiki/Washington,_D.C.
Washington, D.C.
---
---