9 thTOP MARQUES MONACO
THE GRIMALDI FORUM 19 - 22 APRIL 2012
http://www.topmarquesmonaco.com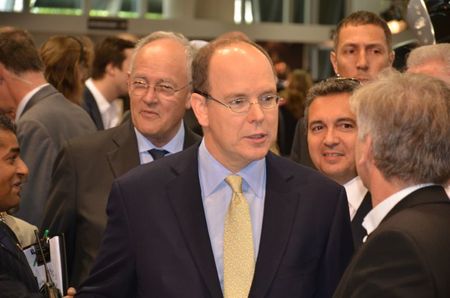 Photo International Agency Press DIACONESCO.TV - C. COPYRIGHT 19th April 2012 - MONACO

The word of the Prince S.A. Sérénissime ALBERT II
14 th of March 2012
From 19th to 22th April, the Grimaldi Forum will host the 9th edition of " TOP MARQUES MONACO ".
For this year's show, the organisers continue to showcase new and exceptional creations. The extraordinary awaits guests from state-of-the-art cars, limited series watches, rare jewels and bespoke luxury artistry, all united by visionary craftsmanship. I particulary appreciate the support that TOP MARQUES gives to car industry allowing it to continue to showcase pioneering technology such as electric and alternate fuels, producing cleaner and more efficient vehicules.
To the delight of enthusiasts, luxury boats will be presented at the Port of Fonvielle for sea trials and will be on view to the public along the esplanade of the Grimaldi Forum.
Visitors will be privileged to watch the world unveiling of world premieres launches in all fields. This year the show grows even larger and will host even more luxury products and services.
I am delighted that again this year a delegation of guests from CHINA will be coming to TOP MARQUES MONACO - I extend a warm welcome to the Principality on the occasion of their visit.
I would also like to offer my sincere thanks to the organisers who generously support the "MONACO AIDE ET PRESENCE" association which will receive some of the profits from this important event.
I wish every success to this 9th TOP MARQUES MONACO.
ALBERT DE MONACO

The word of LAWRIE LEWIS
Chairman TOP MARQUES MONACO
I am thrilled to welcome you to the ninth edition of TOP MARQUES MONACO. At this year's event we have lots of exciting new exhibitors with more state-of-the-art supercars, prestigious, limited edition watchs, superboats and luxury products. We are proud to launch two supercar world premieres.
Top Marques Monaco is unrivalled for its unique experience - it is a show where you can touch and feel the pure power and precision of the supercars. It is about meeting the creators, designers and engineers of these masterpieces. The show breacks boundaries, the technology is pioneering and the cars will simply take you breath away ; nowhere else can visitors have a test drive on the Monaco Formula 1 circuit as well as sea trial superboats in the Mediterranean and a preview of space flights in the SXC shuttle. This year we have 35 cars, motor bikes and several bicycles in the pits. We welcome Roger DUBUIS as Official Sponsor of the test drives.
We are delighted that the event will enjoy the support for the third year of our Gold Partner. American Express VIP Travel, also Monaco Telecom, as well as our loyal hotel partners the SBM, the Fairmont and the Metrople Hotel as well as Fashion for Floors and Habitat. We are extrenely grateful to the DTC the Monaco Tourism Authority who once again will support our exhibitor cocktail and Gruppo Meregalli who will ensure that champagne flows at the show. This year for the first time we welcome a new partner HOGO BOSS.
We want to express our appreciation for the continuing support of the Ports of Monaco and for sponsorship by Franck Muller this year of the Superboat sea trials.
We are also happy that despite a continuing world crisis the Top Marques show has expanded bu 20% this year with more extraordinary exhibitors to surprise you. We have also extended the hours until late so you can enjoy more time at the most exclusive supercar show in the world.
Enjoy the event ! See it ! Drive it ! Buy it !
Lawrie LEWIS
Chairman TOP MARQUES MONACO
by Diaconesco Gérard

For this ninth edition of Top Marques Monaco which is held from 19 to 22 April 2012 in Monaco at the Grimaldi Forum time, while uncertain at first, was still in the game with a beautiful sun of Spring, who ruled Monte-Carlo.

And it was on this sunny esplanade of the Grimaldi Forum that the opening day of the April 19, 2012 at 11:15 am, was inaugurated by SASérénissime Prince ALBERT II of Monaco in the presence of officials and personalities from the Government of Monaco, this Salon which brings together for the occasion the leading brands of prestige and luxury of Automotive Industries, the Watch, and Jewelry, water sport, recreation and water sports Aeronautics Space.

As in past years, our News Agency at the International Press Group DIACONESCO.TV Internet Council LLC was present to present this salon TOP MARQUES MONACO 2012 in a photo essay.

Here for you the best moments of snapshots taken from life for myself that you will definitely enjoy. Enjoy your visit.

Gerard Diaconesco

In French :
Pour cette neuvième édition de Top Marques Monaco qui se tient du 19 au 22 avril 2012 en Principauté de Monaco au Grimaldi Forum le temps, bien qu'incertain au début, était tout de même de la partie avec un beau soleil de Printemps qui régnait sur Monte-Carlo.
Et c'est sur cette esplanade ensoleillée du Grimaldi Forum que cette journée d'ouverture du 19 Avril 2012 à partir de 11h15, était inauguré par S.A.Sérénissime le Prince ALBERT II de Monaco en présence des officiels et des personnalités du Gouvernement Princier, ce Salon qui regroupe pour la circonstance les plus grandes marques de prestige et de luxe des Industries de l'Automobile, de l'Horlogerie, des Bijoux, du Nautisme, des loisirs des sports nautiques et de l'Aéronautique de l'Espace.
Comme par les années passées, notre Agence de Presse à l'International DIACONESCO.TV du Groupe de Presse INTERNET COUNCIL LLC était présente pour vous présenter ce Salon de TOP MARQUES MONACO 2012 en un reportage photographique.
En voici pour vous les meilleurs moments d'instantanés pris sur le vif par moi-même que j'espère vous allez certainement apprécier. Bonne visite.
Diaconesco Gérard
Photos Agency Press DIACONESCO.TV - C. COPYRIGHTS - 19.04.2012 - MONACO
Click photo to enlarge Thank you

Photos Agency Press DIACONESCO.TV - C. Copyrights - 19th april 2012 - Monaco

***********

We wish to thank especially the People of the Organization of the show TOP MARQUES MONACO and the following exhibitors who received us so kindly on their stand during our visit at the first media day of the show opens April 19, 2012 , namely:
* LAWRIE LEWIS Chairman of TOP MARQUES MONACO
* Paula FARQUHARSON Press Office
of TOP MARQUES MONACO
* Mary COLES - Art Consultant
of TOP MARQUES MONACO

* LONGIO WATCH CO - HONG-KONG CHINA - HOLLY MENG

* ARTE IN MOTION ITALY
* JEAN - SOGUERO DESIGN - FRANCE
* CMH LUXURY CARROSSERIE FRANCE -
CHAMKIA Mohamed Habib
* MAC YACHTS - Cameron MacDonald
* BB BOULLE ROUGH DIAMONDS BELGIQUE -
Marie-Pierre BERTRAND BOULLE
* RE / MAX - Cannes FRANCE - Sabine FORMISANO
* QUINTING SA - Genève - SWITZERLAND -
Leyla BAKHSHALI
* EH LINE & MS DESIGN
* EXCLUSIVE COVERING - MONACO
* SPACE EXPEDITION CURACAO - NETHERLANDS -
MARLOUS MENS
http://internetcouncil.canalblog.com/
AGENCY PRESS DIACONESCO.TV
GROUP U.S. COMPANY
INTERNET COUNCIL LLC


AUDIOVISUAL - PRESS PHOTO - PRODUCTION - POST PRODUCTION - DESIGN - DISTRIBUTION -
FILMS FOR TELEVISION - COMMERCIAL FILMS -
TV SERIES - PRO VIDEO REPORTS - VIDEO CLIP -
PRO CINEMA 16m/m - LABORATORY FILM
& VIDEO - TRANSFERT FILMS 16m/m -
8 m/m & Super 8 -
EFFECTS OF MUSIC - SOUND TRACK -
SOUND EDITING DIGITAL AUDIO ...
Contact for Europe :
Tél : + 0039 / 0184 208 291
New FAX : +0039/ 0184 208 291
Mobile : + 0033/ ( 0 ) 6 32 17 36 33
2/ Mobile + 0033 ( 0 ) 6 51 49 67 52
Commercial Registry Numbers USA : 559508-94 & 717632-97
in OREGON - SALEM - U.S.A - 11.13.2008 -
On of digital boards for professional film video editing
AMERICAN AGENCY PRESS DIACONESCO.TV in EUROPE
for PRESS PHOTO MARKET - MARKET HD TELEVISION -
MULTIMEDIA MARKET - MARKET PRINT - INTERNET
MARKETING - INTERNET COMMUNICATIONS -
MEDIATRAINING & PHOTO - COMPUTER TRAINING -
COMMUNICATIONS COUNCIL - MARKET CINEMA ...
AMERICAN COMPANY
INTERNET COUNCIL LLC
AGENCY PRESS DIACONESCO.TV
Bureaux et Régies numériques de DIACONESCO.TV
American Company INTERNET COUNCIL LLC
Registry Number : 559508-94 ( in 2010-2011 )
Box Office USA :
942 Windemere Dr. NW
SALEM, OREGON 97304-2722
U.S.A.
Contact :
1* Phone in EUROPA : +0039/ 0184 208 291
2* Fax for USA and Europa : +0039/0184 208 291
3* Mobile-Phone : +0033 (0) 6 32 17 36 33 & +0033 ( 0 ) 51 49 67 52
internetcouncil@internetcouncil.us
---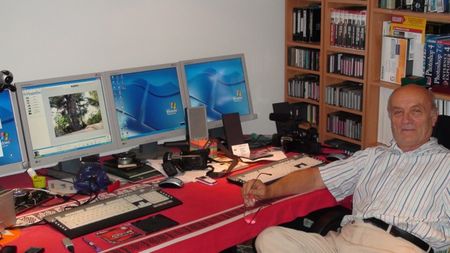 Les Bureaux et les Régies Numériques de la Company INTERNET COUNCIL LLC - DIACONESCO.TV