DONALD TRUMP PRESIDENT IN 2016?
Donald Trump
From Wikipedia, the free encyclopedia
This article is part of a series
about


Donald Trump

---

---

---
Donald John Trump (born June 14, 1946) is an American business magnate, investor,[5] author, television personality, and candidate for President of the United States in the 2016 presidential election. He is chairman and president of The Trump Organization and the founder of Trump Entertainment Resorts. Trump's career, branding efforts, lifestyle, and outspoken manner helped make him a celebrity for years, a status amplified by the success of his NBC reality show, The Apprentice.
Trump is a son of Fred Trump, a New York City real estate developer. He was strongly influenced by his father in choosing a career in real estate development.[6] Trump worked for his father's firm, Elizabeth Trump & Son, while attending the Wharton School of the University of Pennsylvania, and officially joined the company in 1968 upon graduation. In 1971, he was given control of the company, renaming it The Trump Organization. He remains a major figure in United States real estate and a media celebrity.[7][8]
On June 16, 2015, Trump formally announced his candidacy for president in the 2016 election, seeking the nomination of the Republican Party. His early campaigning drew intense media coverage and garnered high levels of popular support.[9] Since early July 2015, he has consistently been the front-runner in public opinion polls for the Republican Party nomination.[10][11][12] Trump's populist anti-illegal immigrant politics, and his call for a temporary moratorium on foreign Muslims entering the United States, contrast with establishment Republican positions.[13] He has earned considerable support among working class voters, amid heavy and frequent controversies in the media.
Trump was born on June 14, 1946,[14] in the borough of Queens in New York City. He is the fourth of five children born to Mary Anne (née MacLeod) and Fred Trump, who had married in 1936. His sister,Maryanne Trump Barry, is a United States federal judge on senior status for the U.S. Court of Appeals for the Third Circuit.[15] Trump's mother was a Scottish immigrant, born on the Isle of Lewis, off the west coast ofScotland.[16] Trump's paternal grandparents were German immigrants;[17] Trump's grandfather, Frederick Trump, was a successful Klondike Gold Rush restaurateur.[18] In his 1987 book, The Art of the Deal, Donald Trump incorrectly claimed that Frederick Trump was of Swedish origin,[19][20] an assertion previously made by Fred Trump for many years.[21] Trump later acknowledged his German ancestry and served as grand marshalof the 1999 German-American Steuben Parade in New York City.[22]
While living in a two-story mock Tudor home on Wareham Place in Jamaica Estates,[23] Trump attended the private Kew-Forest School in Forest Hills, Queens, where Fred Trump, Donald's father, was a member of the Board of Trustees. Some of his siblings also attended Kew-Forest. Speaking of his son, Trump's father told an interviewer in 1983 that he "was a pretty rough fellow when he was small", prompting him to enroll the boy in the New York Military Academy (NYMA) in eighth grade for the duration of his high school education.[24] Trump participated in marching drills and wore a uniform, attaining the rank of "cadet captain" in his senior year.[25]He told a biographer in 2015 that NYMA gave him "more training militarily than a lot of the guys that go into the military".[26]
Trump attended Fordham University in the Bronx for two years before transferring to the Wharton School of the University of Pennsylvania because Wharton then had one of the few real estate studies departments in U.S. academia.[27] He graduated in 1968 with a Bachelor of Science degree in economics.[28]
Trump came of age for the draft during the Vietnam War. In an interview in 2011 on New York station WNYW,[29] he stated, "I actually got lucky because I had a very high draft number."[30] Selective Service records retrieved by The Smoking Gun website from the National Archives show that, although Trump did eventually receive a high selective service lottery number in 1969, he was not drafted earlier because of four student deferments (2-S) while attending college, and after receiving a medical deferment (1-Y, later converted to 4-F) obtained in 1968 after his college graduation, prior to the lottery being initiated.[31] Trump was deemed fit for service after a military medical examination in 1966 and was briefly classified as 1-A by a local draft board shortly before his 1968 medical disqualification.[32] Trump attributed his medical deferment to "heel spurs" in both feet, according to a 2015 biographer,[26] but told an Iowa campaign audience he suffered from a spur in one foot, though he could not remember which one.[32]
Trump began his career at his father's real estate company,[33] Elizabeth Trump and Son,[34] which focused on middle-class rental housing in the New York City boroughs of Brooklyn, Queens, and Staten Island. One of Trump's first projects, while he was still in college, was the revitalization of the foreclosed Swifton Village apartment complex in Cincinnati, Ohio, which his father had purchased for $5.7 million in 1962. The Trumps became involved in the project and, with a $500,000 investment, turned the 1,200-unit complex's occupancy rate from 34% to 100%. In 1972, the Trump Organization sold Swifton Village for $6.75 million.[35][36]
In 1971, Trump moved to Manhattan, becoming involved in larger building projects, and used attractive architectural design to win public recognition.[6] Trump initially came to public attention in 1973 when he was accused by the Justice Department of violations of the Fair Housing Act in the operation of 39 buildings. Trump in turn accused the Justice Department of targeting his company because it was a large one, and in order to force it to rent to welfare recipients. Trump settled the charges in 1975, saying he was satisfied that the agreement did not "compel the Trump organization to accept persons on welfare as tenants unless as qualified as any other tenant."[37]
Trump made plans to acquire and develop the old Penn Central for $60 million with no money down.[38] Later, with the help of a 40-year tax abatement from the New York City government, he turned the bankruptCommodore Hotel into the Grand Hyatt[39] and created The Trump Organization.[40]
New York City had a plan to build the Javits Convention Center on property for which Trump held a right-to-buy option. Trump estimated his company could have completed the project for $110 million,[41] but the city rejected his offer and Trump received a broker's fee on the sale of the property instead. Repairs on The Wollman Rink in Central Park (built in 1955) were started in 1980 with an expected 2½-year construction schedule but were nowhere near completion by 1986. Trump took over the management of the project, at no cost to the city, and completed it in three months for $1.95 million, which was $750,000 less than the initial budget.[42]
In 1988, Trump acquired the Taj Mahal Casino in a transaction with Merv Griffin and Resorts International,[43] which led to mounting debt,[44] and by 1989, Trump was unable to meet loan payments. Although he shored up his businesses with additional loans and postponed interest payments, by 1991 increasing debt brought Trump to business bankruptcy.[44] Banks and bondholders had lost hundreds of millions of dollars but opted to restructure the debt. The Taj Mahal emerged from bankruptcy on October 5, 1991, with Trump ceding 50 percent ownership in the casino to the original bondholders in exchange for lowered interest rates on the debt and more time to pay it off.[45] He also sold his financially challenged Trump Shuttle airline and his 282-foot megayacht, the Trump Princess.[46] The late 1990s saw a resurgence in Trump's financial situation. The will of Trump's father, who died in 1999, divided an estate estimated at $250–300 million equally among his four surviving children.[21]
In 2001, Donald Trump completed Trump World Tower, a 72-story residential tower across from the United Nations Headquarters.[47] Also, he began construction on Trump Place, a multi-building development along the Hudson River. Trump owns commercial space in Trump International Hotel and Tower, a 44-story mixed-use (hotel and condominium) tower on Columbus Circle. Trump owns several million square feet of prime Manhattan real estate.[48]
Without personal capital investment,Trump International Hotel and Tower – Honolulu, Trump International Hotel and Tower – Chicago, Trump International Hotel and Tower – Toronto, and Trump Tower – Tampa. At least two Trump-branded real estate projects have gone into foreclosure.[49] The Turkish owner of Trump Towers Istanbul, who pays Trump for the use of his name, was reported in December 2015 to be exploring legal means to dissociate the property after the candidate's call to bar Muslims from entering the United States.[50]
Trump has licensed his name and image for the development of many real estate projects, including
In 2015, Forbes estimated his net worth at $4 billion.[51] In June 2015, Business Insider published a June 30, 2014, financial statement supplied by Trump. The statement reflects his net worth as $8.7 billion. Of that amount, $3.3 billion is represented by "Real Estate Licensing Deals, Brand and Branded Developments", described by Business Insider as "basically [implying] that Trump values his character at $3.3 billion."[52]
Beyond his traditional ventures in the real estate, hospitality, and entertainment industries, Trump has established the Trump name and brand in other industries and products. With mixed success,[53][54] Trump has marketed his name on a large number of products, including Trump Mortgage (2006–07),[54] Trump Sales and Leasing (residential sales), Trump Restaurants (located in Trump Tower and consisting of Trump Buffet, Trump Catering, Trump Ice Cream Parlor, and Trump Bar), GoTrump (a 2006–07 online travel website),[54][55] Donald J. Trump Signature Collection (a line of menswear, men's accessories, and watches), Donald J. Trump: The Fragrance (2004), Trump Magazine(2007–09),[54] Trump Golf, Trump Chocolate, Trump home (home furnishings), Trump Productions (a television production company), The Trump Entrepreneur Initiative (formerly Trump University, 2005–11), Trump: The Game (1989 board game, relaunched 2005, discontinued),[54] Donald Trump's Real Estate Tycoon (a business simulation game), Trump Model Management, Trump Shuttle (1989–92),[54] Trump Ice, Trump Vodka (2005–11),[54] and Trump Steaks (launched 2007, discontinued).[54] In addition, Trump reportedly receives $1.5 million for each one-hour presentation he does for The Learning Annex.[56]
In 2011, Forbes '​financial experts estimated the value of the Trump brand at $200 million. Trump disputes this valuation, saying that his brand is worth about $3 billion.[57] Many developers pay Trump to market their properties and to be the public face for their projects.[58] For that reason, Trump does not own many of the buildings that display his name.[58] According to Forbes, this portion of Trump's empire, actually run by his children, is by far his most valuable, having a $562 million valuation. According to Forbes, there are 33 licensing projects under development including seven "condo hotels" (the seven Trump International Hotel and Tower developments).
In April 2011, amidst speculation whether Trump would run as a candidate in the U.S. presidential election of 2012, Politico quoted unnamed sources close to him stating that, if Trump should decide to run for president, he would file "financial disclosure statements that [would] show his net worth [was] in excess of $7 billion with more than $250 million of cash, and very little debt".[59] (Presidential candidates are required to disclose their finances after announcing their intentions to run.) Although Trump did not run as a candidate in the 2012 elections, his professionally prepared 2012 financial disclosure was published in his book stating a $7 billion net worth.[60]
Estimates of Trump's net worth have fluctuated along with real estate valuations: in 2015, Forbes pegged it as $4 billion,[51] while the Bloomberg Billionaires Index (which scrutinized Trump's FEC filings) estimated a net worth of $2.9 billion.[61] On June 16, 2015, just prior to announcing his candidacy for president of the United States, Trump released to the media a one-page prepared financial disclosure statement "from a big accounting firm—one of the most respected"[62] stating a net worth of $8,737,540,000.[63] "I'm really rich", Trump said.[62] Forbes called the nearly $9 billion figure a "100%" exaggeration.[64] In July 2015, the Federal election regulators released new details of Trump's wealth and financial holdings when he became a Republican presidential candidate, reporting that his assets are worth above $1.4 billion, which includes at least $70 million in stocks, and a debt of at least $265 million.[65][66]
Trump claimed in a July 2015 press release, one month after announcing his presidential run, that his "net worth is in excess of TEN BILLION DOLLARS".[66][67] However, Trump has said in the past that "my net worth fluctuates, and it goes up and down with markets and with attitudes and with feelings—even my own feelings".[68] Trump has also acknowledged that past exaggerated estimates of his wealth have been "good for financing".[69] Forbes has said that although Trump "shares a lot of information with us that helps us get to the figures we publish", he "consistently pushes for a higher net worth—especially when it comes to the value of his personal brand."[64] Forbes reduced its estimate of Trump's net worth by $125 million following Trump's controversial 2015 remarks about Mexican illegal immigrants, which ended Trump's business contracts with NBCUniversal, Univision, Macy's, Serta, PVH Corporation, and Perfumania.[70]
Trump Tower is a 58-story, mixed-use skyscraper at 725 Fifth Avenue, at the corner of East 56th Street in Midtown Manhattan, New York City. It was developed by Trump and the Equitable Life Assurance Company, and was designed by architect Der Scutt of Swanke Hayden Connell.[71] It is today solely owned by Trump.
Trump Tower occupies the former site of the architecturally significant Bonwit Teller flagship store, demolished in 1980.[72][73] Trump courted controversy for destroying valuable Art Deco bas-relief sculptures on its facade, promised to the Metropolitan Museum of Art,[72][73] and for a contractor's use of some 200 undocumented Polish immigrant workers in the rushed demolition process, who were paid (if at all) just $4 and $5 per hour for work in 12-hour-shifts.[74][75]Trump testified in 1990 he rarely visited the site and was unaware of the illegal workers, some of whom lived at the site and who were known as the "Polish Brigade". A long-running labor lawsuit was settled in 1999, with its record sealed.[74][75]
According to a 2015 campaign claim, Trump made a rare foray into the stock market beginning in 2011 after facing poor returns on bank deposits and being disappointed with the depressed American real estate market. Trump stated that he was not enthusiastic to be a stock market investor, but that prime real estate at good prices was hard to find at that time. Among the stocks Trump claims to have purchased were Bank of America, Citigroup, Caterpillar Inc.,Intel, Johnson & Johnson, Procter & Gamble,[5] and Facebook.[76] On selling stock picks in 2014, Trump said he earned a $27 million profit, with 40 of the 45 stocks purchased generating a profit.[77]
In 1983, Trump purchased the New Jersey Generals for the inaugural season of the United States Football League (USFL). The Generals hired former New York Jets head coach Walt Michaels. Prior to the inaugural season, Trump sold the franchise to Oklahomaoil magnate J. Walter Duncan. Prior to the 1984 season, Duncan sold the team back to Trump.[78]
The USFL planned to play its 1986 schedule in the fall, directly opposite the National Football League (NFL), thanks mostly to Trump's strong advocacy of direct competition with the older, established league. Two years earlier, Trump sold most of his fellow owners on a move to the fall by arguing that it would eventually force a merger with the NFL—in which the owners of any USFL teams included in a merger would see their investment more than double.
The Generals merged with the Houston Gamblers during the extended offseason, adding such stars as quarterback Jim Kelly and wide receiver Ricky Sanders. Michaels was fired, replaced with former Gamblers coach Jack Pardee, who planned to bring the Gamblers' high-powered run and shoot offense with him. However, the USFL's "Dream Team" never took the field. The 1986 season was cancelled after the USFL won a minimal verdict in an antitrust lawsuit against the NFL; the league folded soon afterward.
Trump at one time acted as a financial advisor for Mike Tyson,[79] hosting Tyson's fight against Michael Spinks in Atlantic City.[80]
The Trump Organization operates many golf courses and resorts in the U.S. and around the world.[81] On February 11, 2014, it was announced that Trump had purchased Doonbeg Golf Club in the Republic of Ireland. It was confirmed that the club would be renamed Trump International Golf Links, Ireland.[82] In 2006, Trump bought the Menie Estate in Balmedie, Aberdeenshire, Scotland, creating a highly contentious golf resort, against the wishes of local residents, on an area designated as a Site of Special Scientific Interest.[83][84] In April 2014, Trump purchased the Turnberry hotel and golf resort in Ayrshire, Scotland, which is a regular fixture in the Open Championship rota.[85][86] In June 2015, Trump's appeal objecting to an offshore windfarm (Aberdeen Bay Wind Farm) within sight of the golf links was denied.[87]
In December 2015 Trump's attempt to prevent the windfarm being built within sight of his golf course was dismissed by five justices at the Supreme Court. Commenting on the decision, former Scottish First Minister Alex Salmond branded Trump "three times a loser". A spokesman for the Trump Organisation responded to Salmond's comment by saying: "Does anyone care what this man thinks? He's a has-been and totally irrelevant. The fact that he doesn't even know what's going on in his own constituency says it all ... He should go back to doing what he does best: unveiling pompous portraits of himself that pander to his already over-inflated ego."[88]
Trump has owned part or all the Miss Universe, Miss USA and Miss Teen USA beauty pageants since 1996. Among the most recognized beauty pageants in the world, the Miss Universe pageant was founded in 1952 by the California clothing company Pacific Mills.
In 2015, NBC and Univision both ended their business relationships with the Miss Universe Organization after Trump's presidential campaign kickoff speech on June 16, in which he stated:
Trump subsequently filed a $500 million lawsuit against Univision, alleging a breach of contract and defamation. Cable network Reelz then acquired the rights to exclusively telecast the Miss USA pageant.[90][91] Trump told People magazine in July 2015 that the lawsuit against Univision was "part of the [presidential] campaign".[92] On September 11, 2015, Trump announced that he purchased NBC's stake in the Miss Universe Organization, making him the sole owner, and had "settled" his lawsuits against the network,[92]though it was not immediately clear whether Trump had filed lawsuits against NBC or merely threatened to do so.[93]
In the media, Trump is a two-time Emmy Award-nominated personality and has made appearances as a caricatured version of himself in television series and films (e.g., Home Alone 2: Lost in New York, The Nanny, The Fresh Prince of Bel-Air, Days of Our Lives,Wall Street: Money Never Sleeps[94]), and as a character (The Little Rascals). He has been the subject of comedians, Flash cartoon artists, and online caricature artists. Trump also had his own daily talk radio program called Trumped!.[95][96][97][98][99] He also had a cameo in an episode of the television series Sex and the City.[100]
In March 2011, Trump was the subject of a Comedy Central Roast. The special was hosted by Seth MacFarlane, and roasters included Larry King, Snoop Dogg, and Anthony Jeselnik among regular roast participants. Trump's daughter Ivanka was seen in the audience.[101] In April 2011, Trump attended the White House Correspondents' Dinner, featuring comedian Seth Meyers. President Obama used the occasion to present several prepared jokes mocking Trump.[102]
On August 5, 2015, a documentary about Trump in the 1980s and 1990s appeared online, called, What's the Deal?.[103]
In 2003, Trump became the executive producer and host of the NBC reality show The Apprentice, in which a group of competitors battled for a high-level management job in one of Trump's commercial enterprises. Contestants were successively "fired" and eliminated from the game. In 2004, Donald Trump filed a trademark application for the catchphrase "You're fired."[5][6][7]
For the first year of the show, Trump was paid $50,000 per episode (roughly $700,000 for the first season), but following the show's initial success, he was paid a reported $3 million per episode, making him one of the highest paid TV personalities.Federal Election Commission that NBCUniversal had paid him $213,606,575 for his 14 seasons of hosting the show.[104] In 2007, Trump received a star on the Hollywood Walk of Fame for his contribution to television (The Apprentice).[105]
In July 2015, Trump reported in his personal financial disclosure statement with the
Along with British TV producer Mark Burnett, Trump also put together The Celebrity Apprentice, in which well-known stars compete to win money for their charities. While Trump and Burnett co-produced the show, Trump stayed in the forefront, deciding winners and "firing" losers.
On February 16, 2015, NBC announced that they would be renewing The Apprentice for a 15th season.[106] Eleven days later, Trump stated that he was "not ready" to sign on for another season because of the possibility of a presidential run.[107] Despite this, on March 18, NBC announced they were going ahead with production.[108] On June 29, after widespread negative reaction stemming from Trump's campaign announcement speech, NBC released a statement saying, "Due to the recent derogatory statements by Donald Trump regarding immigrants, NBCUniversal is ending its business relationship with Mr. Trump", apparently ending Trump's role in The Apprentice.[109]
Trump is a known World Wrestling Entertainment fan and friend of WWE owner Vince McMahon. He has hosted two WrestleMania events in the Trump Plaza and has been an active participant in several of the shows.[110] Trump's Trump Taj Mahal in Atlantic City was host to the 1991 WBF Championship (which was owned by WWE, known at the time as the "World Wrestling Federation"). Trump was interviewed by Jesse Ventura ringside at WrestleMania XX.[111]
He also appeared at WrestleMania 23 in a match called "The Battle of the Billionaires".[110] Trump was in the corner of Bobby Lashley, while Vince McMahon was in the corner of Lashley's opponent Umaga with Stone Cold Steve Austin as the special guest referee.[110] The stipulation of the match was hair versus hair, which meant that either Trump or McMahon would have their head shaved if their competitor lost.[110] Lashley won the match, and he and Trump shaved McMahon bald.[110]
On June 15, 2009, as part of a storyline, McMahon announced on Monday Night Raw that he had "sold" the show to Trump.[110] Appearing on screen, Trump declared he would be at the following commercial-free episode in person and would give a full refund to the people who purchased tickets to the arena for that night's show.[110] McMahon "bought back" Raw the following week for twice the price.[110] His entrance theme "Money, Money" was written by Jim Johnston.
Trump was inducted into the celebrity wing of the WWE Hall of Fame in 2013, at Madison Square Garden for his contributions to the promotion. He made his fifth WrestleMania appearance the next night.[112]
A 2011 report by the Center for Responsive Politics showed that over two decades of U.S. elections, Donald Trump made contributions to campaigns of both Republican Party and Democratic Party candidates.[113] In February 2012, Trump endorsed Mitt Romney for president of the United States.[114] Trump was also an early supporter of Ronald Reagan for U.S. president.[115]
In April 2011, Trump questioned President Barack Obama's proof of citizenship,[116] alleging that "his grandmother in Kenya said he was born in Kenya, and she was there and witnessed the birth".[117] (Trump's claim derived from a discredited transcript of a telephone interview with Obama's grandmother, produced by a Pennsylvania pastor opposed to Obama's election.[118]) Trump also questioned whether Obama had good enough grades to warrant entry to Harvard Law School.[119] Trump claimed to have sent a team of private investigators to Hawaii, Obama's documented birthplace,[118] and told The Today Show "they cannot believe what they're finding".[120] On April 25, 2011, Trump called for Obama to end the citizenship issue by releasing the long-form of his birth certificate.[121][122] Two days later, Obama made a formal statement in efforts by the White House to put the matter to rest with the release of the long-form of Obama's birth certificate.[123] Trump expressed pride at his role in the certificate's release in a press conference follow-up, saying he hoped it "checks out" and "we have to see, is it real?"[124] When asked in July 2015 whether Obama was born in the U.S., Trump said: "I really don't know. I mean, I don't know why he wouldn't release his records."[125][126]
In December 2008, Trump emerged as an early supporter of the 2009 government-backed rescue plan for the U.S. auto industry, which by 2012 was supported by 56% of Americans (63% support in Michigan), according to a Pew Research Center poll.[127][128] Statements of Trump's hinting that vaccination would cause autism were subject to criticism in various media by the scientific community.[129][130] He has also been criticized for climate change-denying statements, because they are discordant with the opinion of the scientific community.[131]
Trump floated the idea of running for president in 1988, 2004, and 2012, and for governor of New York in 2006 and 2014, but did not enter those races.[132][133] Although a November 1999 New York Times/CBS News poll showed that 70% of Americans had an unfavorable opinion of Trump, making him less popular at the time than Linda Tripp,[134] he ran for the presidential nomination of the Reform Party in 2000 and won the party's California primary.[135][136][137][138] Trump acknowledged that his national profile has since changed: "What happened was I did The Apprentice and it became a tremendous success. Who would have thought this was going to happen?" he told interviewer Larry King in 2005. "There's sort of nothing like having the big hot show on television."[139] As Trump publicly speculated about seeking the 2012 Republican presidential nomination, a Wall Street Journal/NBC News poll released in March 2011 found Trump leading among potential contenders, one point ahead of former Massachusetts Governor Mitt Romney.[140] A Newsweek poll conducted in February 2011 showed Trump within a few points of Barack Obama, with many voters undecided in the November 2012 general election for president of the United States.[141] A poll released in April 2011 by Public Policy Polling showed Trump having a nine-point lead in a potential contest for the Republican nomination for president while he was still actively considering a run.[142][143] His moves were interpreted by some media as possible promotional tools for his reality show The Apprentice.[144][145][146] On May 16, 2011, Trump announced he would not run for president.[144] Public Policy Polling described the events of May 2011 as "one of the quickest rises and falls in the history of presidential politics".[147] In December 2011, Donald Trump was named among the top six of the ten most admired men and women living, according to a USA Today/Gallup poll.[148]
In January 2013, Trump (at the time a notably popular figure in Israel)[149][150] released a video endorsing Israeli Prime Minister Benjamin Netanyahu during the 2013 Israeli elections, stating that "A strong prime minister is a strong Israel."[151][152] In 2015, Trump was awarded the 'Liberty Award' at the 'Algemeiner Jewish 100 Gala' in honor of his positive contributions to Israel–United States relations.[153] Trump stated: "I have so many friends in Israel."[154] Following Trump's call in December 2015 to exclude Muslims from travel to the United States, numerous Jewish leaders (including Netanyahu)[155] criticized Trump's proposal, and 37 Israeli Knesset members from across the political spectrum signed a petition urging Netanyahu not to meet with Trump later that month;[156] a day later, Trump postponed his visit to Israel "until after I become President of the U.S.",[157] stating that he did not want to put Netanyahu "under pressure".[155]
In 2013, Trump was a featured speaker at the Conservative Political Action Conference (CPAC).[158] The speech was not well-attended.[159] He spent over $1 million to research a possible run for president of the United States.[160] In October 2013, New York Republicans had circulated a memo suggesting Trump should run for governor of the state in 2014, against Andrew Cuomo. Trump said that while New York had problems and taxes were too high, running for governor was not of great interest to him.[161] In February 2015, Trump opted not to renew his television contract for The Apprentice, generating speculation that he might run for president in 2016.[162]
Trump formally announced his candidacy for president of the United States in the 2016 elections on June 16, 2015, from his headquarters in Trump Tower in New York City.[163][164] Trump launched his campaign declaring the official slogan, "We are going to make our country great again" with a commitment to become the "greatest jobs president that God ever created".[164][165] Immediately after his announcement in New York, Trump traveled to Iowa to campaign in the state ahead of the first-in-the-nation Iowa caucuses.[166] Trump has also campaigned extensively in New Hampshire, site of the first Republican primary.[167][168] Trump kicked off a western swing in early July 2015, giving rallies and speeches in Las Vegas[169] and Los Angeles.[170]
A survey conducted by The Economist/YouGov released July 9, 2015, became significant as the first major nationwide poll to show Trump as the 2016 Republican presidential front-runner.[171] Following that poll, from July to November 2015, Trump polled at or near the top of most opinion polls for the GOP nomination, often polling at between 20 and 40 percent of Republicans. Trump also polled well in the early-voting states of Iowa, New Hampshire and South Carolina, often leading or coming in second in these states.
Trump has frequently made bold and heavily controversial statements on issues that appeal to disenfranchised working class voters with negative opinions of immigrants.[172][173]
Trump's immigration policy calls for deportation of the 11 million illegal immigrants in the United States, and the erection of a substantial wall on the Mexico–United States border.[174] Trump has called for aggressive bombing of the Mideast terrorist group ISIS, has supported surveillance on mosques in the United States.[175]
In response to the 2015 San Bernardino shooting, Trump proposed a ban on Muslims entering the United States "until our country's representatives can figure out what the hell is going on."[176] Trump cited President Franklin Delano Roosevelt's World War II use of the Alien and Sedition Acts to issue of presidential proclamations to apprehend, restrain, and deport Japanese, German, and Italian alien immigrants, then Trump argued that the proclamations were good because Roosevelt is highly respected and even has highways named after him.[177][178][179][180] He later clarified that Muslims who were United States citizens or serving in the U.S. military would be let back into the United States.[181] The measure proposed by Trump would be temporary,[182] until better screening methods are devised,[183] although the proposal has also been phrased in more controversial ways.[184]
The proposal to ban Muslims drew wide criticism from sources both within the U.S. and abroad, and from unusual sources, such as foreign leaders who normally do not get involved in United States presidential campaigns, and leaders of Trump's own party holding party positions that do not normally get involved in its own party's presidential primary.[185][186] Critics included British Prime Minister David Cameron,[185] French Prime Minister Manuel Valls[187] and Canadian Foreign Minister Stéphane Dion,[188] as well as the chairman of the Republican Party Reince Priebus, Republican House Speaker Paul Ryan, and Republican Senate Majority Leader Mitch McConnell.[186][189] A petition to block Trump from entry to the UK has gained over 540,000 signatures, a record for the UK Government website.[190] Members of Trump's own party argued that a proposal banning members of a major world religion violated the party's conservative values, the constitution's first amendment, and the country's core values. Critics pointed out that the proposal would result in the exclusion of many of the most important allies in the country's war on terror, from interpreters helping the CIA to Jordan's King Abdullah, and that it would bolster ISIL by furthering its narrative that the U.S. is pitted against the Muslim faith. The U.S. Pentagon issued a statement that "anything that bolsters ISIL's narrative and pits the United States against the Muslim faith is certainly not only contrary to our values but contrary to our national security."[191]
Trump's mother, Mary Anne MacLeod, was born in 1912 at Tong, Stornoway, on Lewis, one of the Scottish islands. In 1930, aged 18, she sailed on holiday to New York on the RMS Transylvania, met Fred Trump and remained in the U.S., marrying him in 1936.[22]
Their son Donald was born in Queens, New York, in 1946.[192] He has four siblings: two brothers, Fred, Jr. (deceased) and Robert S. Trump; and two sisters, Maryanne and Elizabeth. His older sister, Maryanne Trump Barry, is a Third Circuit federal appeals court judge on senior status.
In 1977, Trump married model Ivana Zelníčková, a native of the Czech Republic, at Marble Collegiate Church in New York. Together they have three children: Donald, Jr. (born December 31, 1977), Ivanka (born October 30, 1981), and Eric (born January 6, 1984). Ivana Trump became a naturalized U.S. citizen in 1988, with Trump at her side.[193] Trump is popularly known as "The Donald", a nickname perpetuated by the media after Ivana referred to him as such in a 1989 Spy Magazine cover story.[194][195] By early 1990, Trump's troubled marriage to Ivana and long-running affair with actress Marla Maples had become widely documented in the tabloid press,[20][196] and the couple divorced in 1991.[197] Trump married Maples on December 21, 1993, two months after the birth of their child, Tiffany (born October 13, 1993).[198] They divorced on June 8, 1999. In a February 2009 interview on ABC's news programNightline, Trump commented on his ex-wives by saying, "I just know it's very hard for them [Ivana and Marla] to compete because I do love what I do. I really love it."[199]
Trump dated model Kara Young in the mid to late 1990s,[200] and reportedly "bombarded" Princess Diana with expensive floral arrangements after her 1996 divorce from Prince Charles.[201] "I only have one regret in the women department – that I never had the opportunity to court Lady Diana Spencer", Trump wrote in his 1997 book, The Art of the Comeback. "I met her on a number of occasions … She was a genuine princess – a dream lady."[202]
In 1998, Trump met and began courting fashion model Melania Knauss, a native of Slovenia.[203][204] After becoming engaged on April 26, 2004, they were married on January 22, 2005, at Bethesda-by-the-Sea Episcopal Church, on the island of Palm Beach, Florida, followed by a reception at Trump's Mar-A-Lago estate.[205][206][207]
In 2006, Melania became a naturalized U.S. citizen.[204] That same year, she gave birth to a boy, Trump's fifth child, that the couple named Barron William Trump.[208][209] (Trump had previously used the pseudonym "John Baron" in some business deals.[74]) In 2011, Melania told an interviewer her son Barron is equally fluent in English and Slovenian, thanks to his bilingual upbringing.[210]
Trump has seven grandchildren: five from his son Donald Jr. (Kai Madison, Donald John III, Tristan Milos, Spencer Frederick, and Chloe Sophia)[211][212][213] and two from his daughter Ivanka (Arabella Rose and Joseph Frederick).[214][215]
Trump is a Presbyterian.[216] In an April 2011 interview, on the 700 Club, Trump said, "I'm a Protestant, I'm a Presbyterian. And you know I've had a good relationship with the church over the years. I think religion is a wonderful thing. I think my religion is a wonderful religion."[217][218] Trump told a 2015 South Carolina campaign audience he attends Marble Collegiate Church in Manhattan, where he married his first wife Ivana in 1977, although according to The Hill, the church has said he is "not an active member".[219]
In 1983, the Reverend Norman Vincent Peale, described in a New York Times profile as Trump's "pastor" and "family minister", said that Trump was "kindly and courteous in certain business negotiations and has a profound streak of honest humility."[24] Trump calls his own book The Art of the Deal (1987) "my second favorite book of all time", and has told campaign audiences: "Do you know what my first is? The Bible! Nothing beats the Bible."[220][221] Declining to name his favorite Bible verse, Trump said "I don't like giving that out to people that you hardly know".[219]
Trump has praised prominent national evangelical leaders, including Tony Perkins and Ralph Reed.[222] In September 2015, he invited dozens of Christian and Jewish leaders to his New York City offices for a meeting and laying on of hands prayer gathering.[223] On September 30, 2015, he asked for and received a blessing from prominent Greek Orthodox priest Emmanuel Lemelson, who he asked to offer the invocation at a Trump campaign rally in Keene, New Hampshire.[224]
Asked in 2015 at an Algemeiner Journal awards ceremony about having Jewish grandchildren, Trump said: "Not only do I have Jewish grandchildren, I have a Jewish daughter (Ivanka, who converted to Judaism before her marriage to Jared Kushner) and I am very honored by that … it wasn't in the plan but I am very glad it happened."[225]
Four of Trump's businesses have declared Chapter 11 bankruptcy.[226] According to a report by Forbes in 2011, these were the result of over-leveraged hotel and casino businesses in Atlantic City: Trump's Taj Mahal (1991), Trump Plaza Hotel (1992), Trump Hotels and Casino Resorts (2004), and Trump Entertainment Resorts (2009).[227][228] Trump said "I've used the laws of this country to pare debt. … We'll have the company. We'll throw it into a chapter. We'll negotiate with the banks. We'll make a fantastic deal. You know, it's like on The Apprentice. It's not personal. It's just business."[229] He indicated that other "great entrepreneurs" do the same.[227]
The first of Trump's corporate entities to file bankruptcy was in 1991, when Trump Taj Mahal was unable to pay its obligations.[229] Forbes indicated that this first bankruptcy was the only one where Trump's personal financial resources were involved. Time, however, maintains that $72 million of his personal money was also involved in a later 2004 bankruptcy.[230]
On November 2, 1992, the Trump Plaza Hotel filed a prepackaged Chapter 11 protection plan. Under the plan, Trump agreed to give up a 49 percent stake in the luxury hotel to Citibank and five other lenders.[231] In return Trump would receive more favorable terms on the remaining $550+ million owed to the lenders, and retain his position as chief executive, though he would not be paid and would not have a role in day-to-day operations.[232]
In the subsequent restructuring of these two events, Trump had eliminated a large portion of his $900 million personal debt by 1994,[233] and reduced significantly his nearly $3.5 billion in business debt. While he relinquished the Trump Princess yacht and the Trump Shuttle (which he had bought in 1989), he managed to retain Trump Tower in New York City and control of his three casinos in Atlantic City. Trump sold his ownership of West Side Yards to Asian developers as a result of his negotiations with Chase Manhattan Bank. Trump was reportedly paid a premium for placing his well-known moniker on the buildings that eventually arose. In 1995, he combined his casino holdings into the publicly held Trump Hotels & Casino Resorts. The real estate assets became a source of wealth even when profits had struggled.[234]
The third corporate bankruptcy was on October 21, 2004, when Trump Hotels & Casino Resorts announced a restructuring of its debt.[235] The plan called for Trump's individual ownership to be reduced from 56 percent to 27 percent, with bondholders receiving stock in exchange for surrendering part of the debt. Trump Hotels was forced to seek voluntary bankruptcy protection to stay afloat. After the company applied for Chapter 11 Protection in November 2004, Trump opted to relinquish his CEO position but retained a role as Chairman of the board. In May 2005[236] the company emerged from bankruptcy as Trump Entertainment Resorts Holdings.[237]
The most recent corporate bankruptcy occurred in 2009. On February 13, Trump announced that he would resign from the board of Trump Entertainment Resorts and four days later the company filed for Chapter 11 bankruptcy.[238] At that time, Trump Entertainment Resorts had three properties in Atlantic City: Trump Taj Mahal, Trump Plaza, and Trump Marina (sold in 2011). In early August 2014, Donald Trump filed a lawsuit requesting his name be removed from the Trump Plaza Hotel and Casino and the Taj Mahal facilities since he no longer runs or controls the company.[239] Trump Entertainment Resorts filed again for bankruptcy in 2014.[240]
Over the course of his career, Trump has initiated and been the target of "hundreds" of civil lawsuits, which his lawyer Alan Garten said in 2015 was "a natural part of doing business in this country".[241]
In 1973, the Justice Department filed suit against the Trump Management Corporation for alleged racial discrimination, which Trump's company disputed.[242] The case was settled out of court in 1975.[243]
In 1990, after an analyst at Janney Montgomery Scott said that Trump's Taj Mahal project would initially "break records" but would fail before the end of that year, Trump threatened to sue the firm unless the analyst recanted or was fired. The analyst refused to retract the statements, and was fired by his firm.[244] Taj Mahal declared bankruptcy for the first time in November 1990.[245] A defamation lawsuit by the analyst against Trump for $2 million was settled out of court.[246] The analyst's statements regarding the Taj Mahal's prospects were later called "stunningly accurate".[247]
In 2002, the Securities and Exchange Commission brought a financial-reporting case against Trump Hotels & Casino Resorts Inc., alleging that it had committed several "misleading statements in the company's third-quarter 1999 earnings release". The matter was settled with the defendant neither admitting nor denying the charge.[248]
During the 2008 financial crisis, Trump International Hotel and Tower in Chicago was unable to sell sufficient units. Lender Deutsche Bank refused to let Trump lower the prices on the units to spur sales. Arguing that the financial crisis and resulting drop in the real estate market is due to circumstances beyond his control, Trump invoked a clause in the contract to not pay the loan.[249] Trump then initiated a suit asserting that his image had been damaged. Both parties agreed to drop their suits, and sales of the units continued.[250]
In 2008, Trump filed a $100 million lawsuit for alleged fraud and civil rights violations[251] against the California city of Rancho Palos Verdes, a seaside town of 41,000 with an annual budget just under $20 million, over thwarted luxury home development and expansion plans on part of a landslide-prone golf course purchased by Trump in 2002 for $27 million.[251] Trump had previously sued a local school district over land leased from them in the re-branded Trump National Golf Club, and had further angered some local residents by renaming a thoroughfare after himself.[251] Trump's lawyer was unable to convince a judge that the city's "relentless anti-growth municipal ideology"[252] had stymied Trump's ambitions, as Trump had never submitted permit applications in the first place,[252] and the suit was ultimately withdrawn in 2012 with Trump and the city agreeing to modified geological surveys and permit extensions for some 20 proposed luxury homes (in addition to 36 homes previously approved).[252][253] Trump ultimately opted for a permanent conservation easement instead of expanded housing development on the course's driving range.[254]
In 2009, Trump was sued by investors who had put down deposits, typically $200,000–$300,000 per person, for condos in the failed Trump Ocean Resort Baja Mexico.[255] The investors alleged that Trump (whose videos promoting the development had been shown to potential investors) misrepresented his role in the project, claiming after its failure that he had been little more than a spokesperson for the entire venture, disavowing any financial responsibility for the debacle.[256] Investors were abruptly informed that they would be getting nothing back: "All that remains of Trump Baja is a highway billboard with a large photo of Donald Trump that advertises condos for sale. It hovers over a closed sales center and showroom, a paved parking lot, a big hole that cuts a wide swath, drainage pipes and construction equipment", reported the Associated Press in 2009.[255] In the litigation that ensued in a California court, Trump's attorneys sought to question a San Diego Union-Tribune reporter about a 2006 story with the headline "Trump puts 'brand' on Baja with condo-hotel", which quoted Trump saying he was a "significant" equity investor in the development.[257] The California court rejected Trump's legal maneuver, siding with attorneys who argued that California Shield Law prevented discovery of a reporter's unpublished notes.[258] In 2013, Trump settled the lawsuit with more than one hundred would-be condo owners for an undisclosed amount.[259]
In 2011, an appellate court upheld a New Jersey judge's decision dismissing Trump's $5 billion defamation lawsuit against author Timothy L. O'Brien, who had reported in his book, TrumpNation: The Art of Being The Donald (2006), that Trump's true net worth was in fact between $150 and $250 million, not the "billions" Trump had told the author and publicly stated in 2005.[260] Trump complained that the author's alleged underestimation of his net worth was motivated by malice and had cost him business deals and reputational damage.[261] The appellate court, however, noted the consistency of O'Brien's three confidential sources.[262]
Trump sued comedian Bill Maher for $5 million in 2013, based on comments Maher made on The Tonight Show with Jay Leno, in which Maher offered $5 million payable to a charity if Trump produced his birth certificate to prove his mother had not mated with anorangutan. (Trump, in addition to having previously challenged Obama to produce his birth certificate, had offered $5 million payable to a charity of Obama's choice, if Obama produced his college applications, transcripts, and passport records.[263][264]) Trump produced his birth certificate, filing a lawsuit after Maher was not forthcoming, claiming Maher's $5 million offer was legally binding. "I don't think he was joking", Trump said. "He said it with venom."[263] Maher replied that Trump needed to learn the difference between "what a joke is and what a contract is" and that the U.S. legal system is "not a toy for rich idiots to play with", and said that it was obvious humans and orangutans can't reproduce.[265] Trump withdrew his lawsuit against the comedian after eight weeks.[266]
In 2013, a lawsuit filed by New York Attorney General Eric Schneiderman accused Trump of defrauding more than 5,000 people of $40 million for the opportunity to learn Trump's real estate investment techniques in a for-profit training program, Trump University, which operated from 2005 to 2011.[267][268][269] Schneiderman contended that Trump's seminars constituted an "unlicensed, illegal educational institution" which utilized false advertising, bait-and-switch tactics, intentional misrepresentation and other fraudulent practices.[241] In January 2014, a New York Superior Court upheld part of the Attorney General's case against Trump,[270] and in October 2014, found Trump liable for not obtaining a license to operate the for-profit investment school, Trump Entrepreneur Initiative, formerly known as Trump University. (Trump ultimately stopped using the term "University" following a 2010 order from New York regulators, who called Trump's use of the word "misleading and even illegal"; the state had previously warned Trump in 2005 to drop the term or not offer seminars within New York.)[271][272][273] In a separate class action civil suit in mid-February 2014, a San Diego federal judge allowed claimants in California, Florida, and New York to proceed.[274] A Trump counterclaim, alleging that the state Attorney General's investigation was accompanied by a campaign donation shakedown, was investigated by a New York ethics board and dismissed in August 2015.[275] Trump also filed a $1 million defamation suit against former Trump University student Tarla Makaeff, who had spent about $37,000 on seminars, after she joined the class action lawsuit and publicized her classroom experiences on social media.[256] Unable to prove malice, Trump University lost an anti-SLAPP lawsuit (under statutes designed to thwart legal intimidation of class action participants) and was ordered by a U.S. District Judge in April 2015 to pay Makaeff and her lawyers $798,774.24 in legal fees and costs.[276] "That just shows you how low they will go to silence people", Makaeff said.[256]
In 2014, the former Miss Pennsylvania Sheena Monnin ultimately settled a $5 million arbitration judgment against her, having been sued by Trump after alleging that the Miss USA 2012 pageant results were rigged. Monnin wrote on her Facebook page that another contestant told her during a rehearsal that she had seen a list of the top five finalists, and when those names were called in their precise order, Monnin realized the pageant election process was suspect, compelling Monnin to resign her Miss Pennsylvania title. Trump's lawyer said that Monnin's allegations had cost the pageant a lucrative British Petroleum sponsorship deal and threatened to discourage women from entering Miss USA contests in the future.[277] According to Monnin, testimony from the Miss UniverseOrganization and Ernst & Young revealed that the top 15 finalists were selected by pageant directors regardless of preliminary judges' scores.[278] As part of the settlement, Monnin was not required to retract her original statements.[277] "Standing on truth has cost me much", Monnin said.[279]
In 2014, the model Alexia Palmer filed a civil suit against Trump Model Management for promising a $75,000 annual salary but paying only $3,380.75 for three years' work. Palmer claimed to be owed more than $200,000. Palmer contended that Trump Model Management charged, in addition to a management fee, "obscure expenses" from postage to limousine rides that consumed the remainder of her compensation. Trump attorney Alan Garten claims the lawsuit is "bogus and completely frivolous".[280][281]
In 2015, Trump initiated a $100 million lawsuit against Palm Beach County claiming that officials, in a "deliberate and malicious" act, pressured the FAA to direct air traffic to the Palm Beach International Airport over his Mar-A-Lago estate.[282] The air traffic is allegedly damaging the construction of the building and disrupting its ambience. Trump had previously sued twice over airport noise.[282]
In July 2015, Trump filed a $10 million lawsuit against chef José Andrés claiming that he backed out of a deal to open the flagship restaurant at Trump International Hotel Washington, D.C.[283] Andrés replied that Trump's lawsuit was "both unsurprising and without merit".[284] After denouncing chef Geoffrey Zakarian who, like Andrés, withdrew from the Trump International Hotel project in the wake of Trump's comments on undocumented Mexican immigrants (and who was expected to lose his $500,000 restaurant lease deposit as a result),[284] Trump sued Zakarian in August 2015 for a sum "in excess of $10 million" for lost rent and other damages.[285] Trump's lawsuit called Zakarian's offense at his remarks "curious in light of the fact that Mr. Trump's publicly shared views on immigration have remained consistent for many years, and Mr. Trump's willingness to frankly share his opinions is widely known."[285]
Pulitzer Prize-winning journalist David Cay Johnston as well as investigative journalist Wayne Barrett, who wrote an unauthorized 1992 Trump biography, have alleged that Trump and his companies did business with New York and Philadelphia families linked to theItalian-American Mafia.[286][287] They claim Trump purchased the future site of Atlantic City's Trump Plaza for twice its market value from the Philadelphia crime family member Salvatore Testa, and according to the State of New Jersey Commission of Investigation's 1986 report on organized crime, constructed the casino using two firms controlled by Nicodemo Scarfo.[287] Although Trump was a federal target in a 1979 bribery investigation, and later questioned in a 1981 racketeering probe, neither investigation resulted in criminal charges.[287] Trump was criticized for omitting mention of that investigation in his New Jersey casino license application, and Johnston alleged that he had persuaded state officials to limit his background investigation.[286] It was also reported by Johnston and other investigative reporters that Trump Tower, Trump Plaza, and other New York City properties were constructed with concrete purchased from S & A Concrete Co., a firm owned by Anthony Salerno, head of the Genovese crime family, and Paul Castellano, head of the Gambino crime family.[286][288]
According to British investigative journalist John Sweeney, Trump walked out of an interview for the BBC's Panorama series with Sweeney after Trump was asked why he continued to do business with Felix Sater, an ex-convict who identified himself a "senior advisor to Donald Trump" (a claim disputed by Trump's representatives), after Sater's mafia and Russian criminal ties, as well as a 1998 racketeering conviction for a $40 million Mafia-linked stock fraud scheme,[289] were publicly reported in 2007.[290][291][292] Sater's fraud victims included Holocaust survivors Ernest and Judit Gottdiener, whose estate later sued Sater and a business partner for failing to pay $7 million in restitution.[293] Sater moved into a Trump Tower office on the same floor as Trump's office in 2010, according to court records and Associated Press interviews.[289] "Felix Sater, boy, I have to even think about it", Trump told the AP in December 2015. "I'm not that familiar with him."[289] When previously asked about Sater by The New York Times in December 2007, Trump said that he "didn't really know him very well".[291] Sater was born in Russia in 1966 and emigrated to the U.S. with his family at the age of 8,[291] and later developed ties to members of the Bonanno and Genovese crime families.[294] He worked with Trump on at least four projects including Trump SoHo, Trump International Hotel and Residence Phoenix (which failed[294]), Trump International Hotel and Residence Ft. Lauderdale (which collapsed amid allegations of fraud[295]), and an unrealized skyscraper project in Denver which involved Sater traveling with Trump to the city[296] and being interviewed together with Trump by The Rocky Mountain News in 2005.[291] Alan Garten, senior attorney for Trump, said that Sater has "got a lot of contacts" and worked with Trump scouting high-end luxury real estate opportunities, but was never formally employed, and did not close any deals for Trump over the course of a six-month non-contractual working relationship in 2010.[289] "If Mr. Sater was good enough for the government to work with", referring to the cooperation agreement which kept Sater's racketeering conviction sealed from public scrutiny for 14 years, "I see no reason why he wasn't good enough for Mr. Trump".[289]
According to a New York State report, Trump "circumvented" personal and corporate campaign donation limits in the 1980s by donating money to candidates from 18 different business subsidiaries, rather than giving primarily in his own name.[288] Trump told investigators he did so on the advice of lawyers, and not to curry favor with business-friendly candidates, but simply to satisfy requests from friends.[288]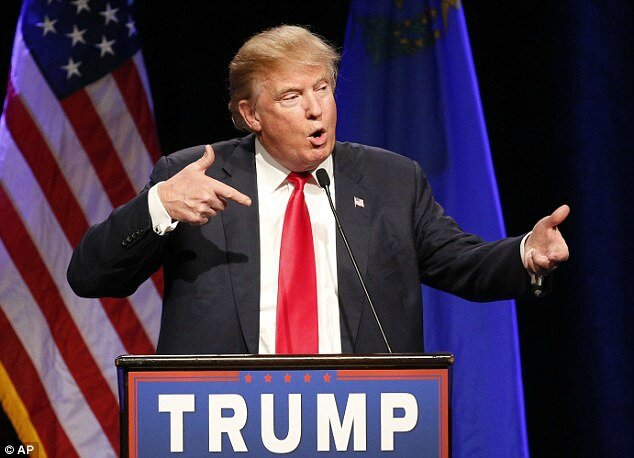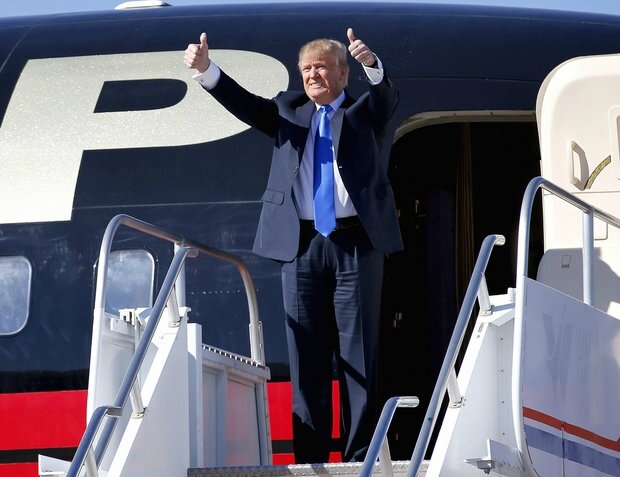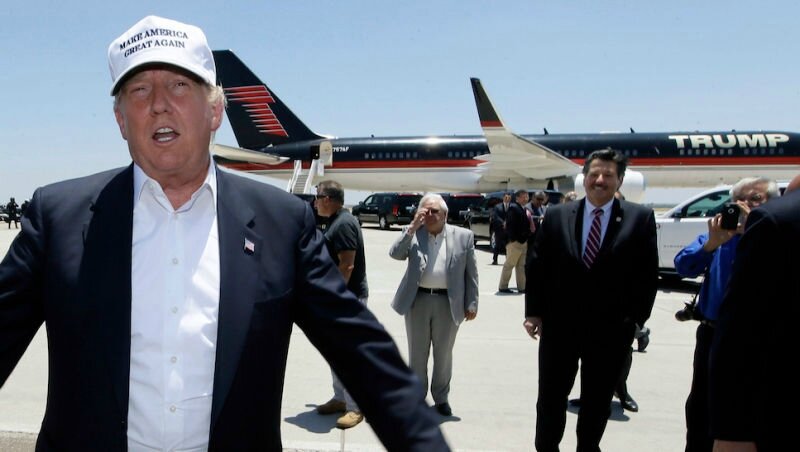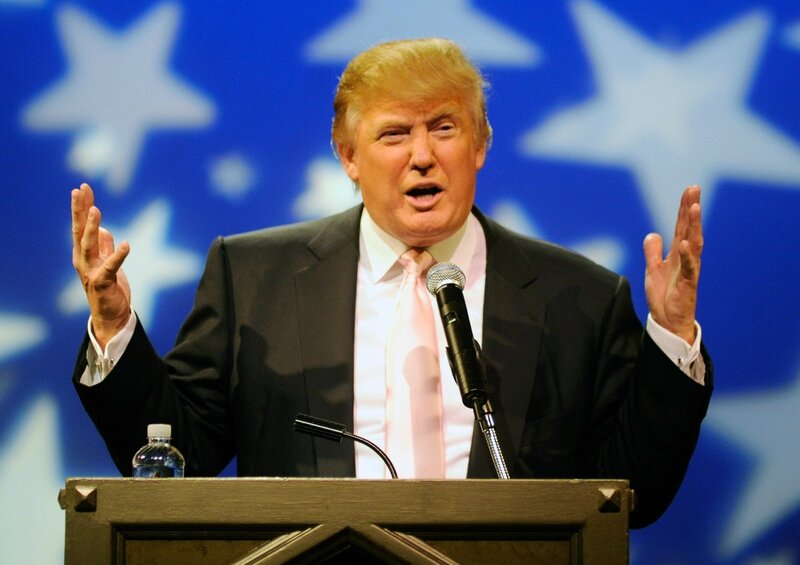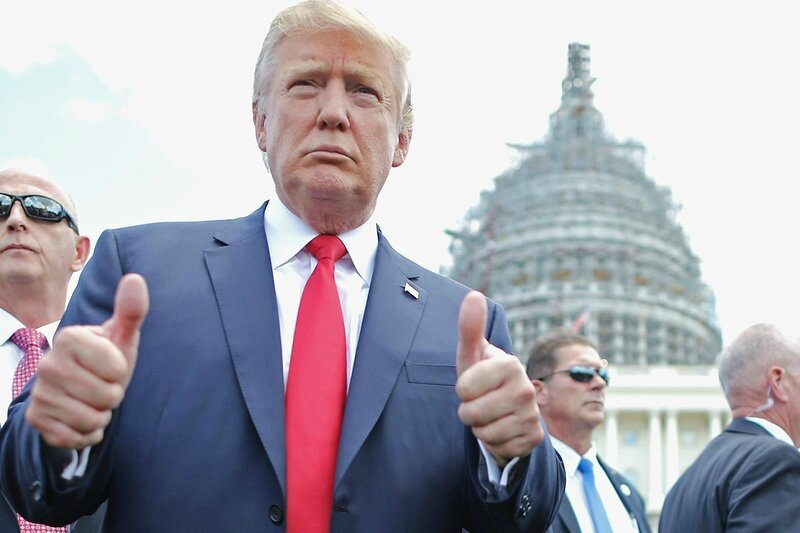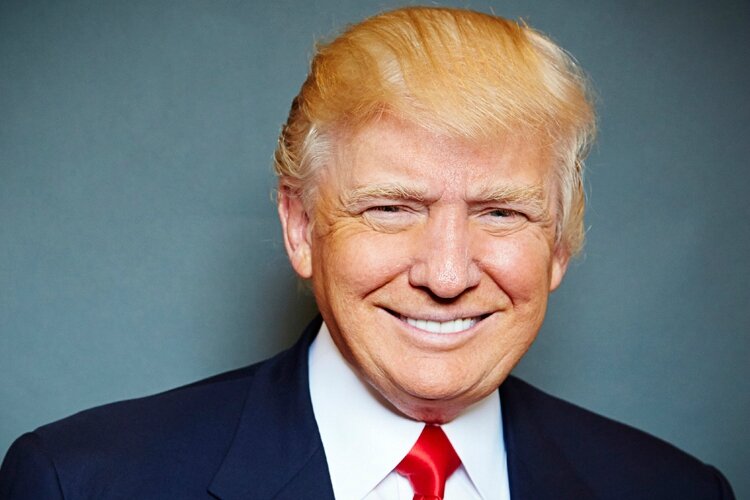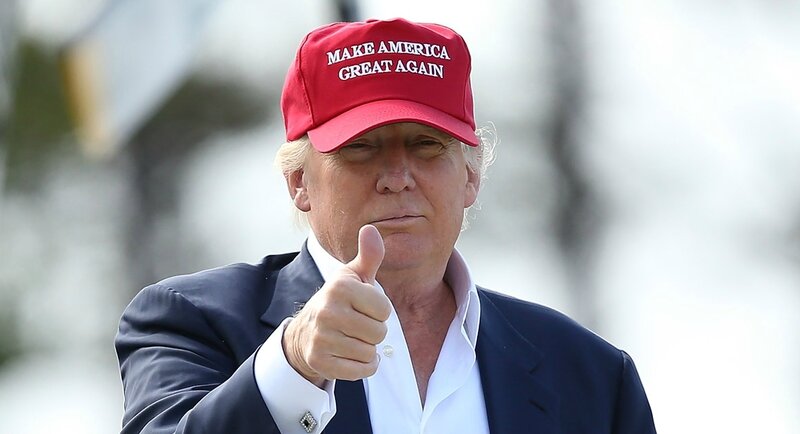 MAKE AMERICA
GREAT AGAIN