Donald Trump presidential campaign, 2016
From Wikipedia, the free encyclopedia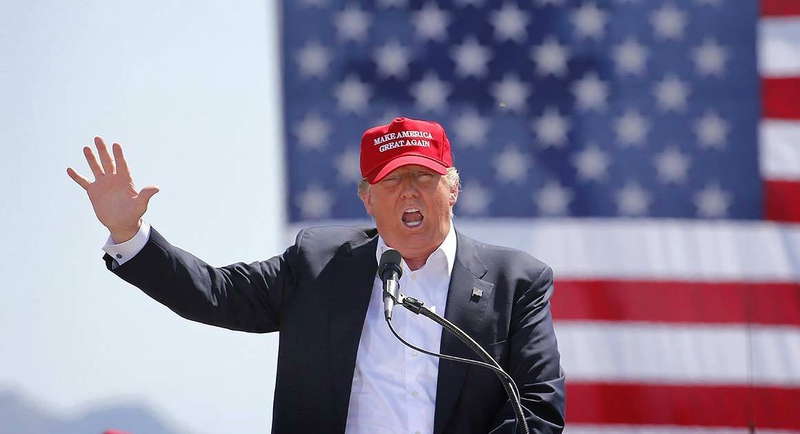 [

hide

]

This article has multiple issues. Please help improve it or discuss these issues on the talk page.

This article may require cleanup to meet Wikipedia's quality standards. The specific problem is: too many quotations (March 2016)

This article has been nominated to be checked for its neutrality. (April 2016)
Donald J. Trump for President

Campaign

U.S. presidential election, 2016

Candidate

Donald Trump

Affiliation

Republican Party

Status

Announced: June 16, 2015

Headquarters

725 Fifth Avenue
Manhattan, New York

Key people

Corey Lewandowski, campaign manager
Paul J. Manafort, convention manager
Katrina Pierson, national spokesperson


Hope Hicks, press secretary




Michael Glassner, deputy campaign manager




Daniel Scavino Jr., director of social media

Receipts
US$25,526,319 (2016-03-16[1])

Slogan

Make America Great Again![2]

Website

Official website
This article is part of
a series about
---
---
---
Donald Trump, a businessperson and television personality, announced his candidacy for President of the United States at the Trump Tower in New York City on June 16, 2015 with the slogan "Make America Great Again!"[3] His campaign manager is Corey Lewandowski.[4]
Trump's populist positions in opposition to illegal immigration, free trade, and military interventionism[5][6][7][8] earned him particular support among blue-collar voters.[9] Trump has become the consistent Republican front-runner in public opinion polls.[10][11][12][13][14] Many of his remarks have been highly controversial among the public, other political candidates, the media, and Trump's business partners, some of whom have ended their business relationships with him as a result. Several world leaders have also expressed concerns about the prospect of his becoming president.[15][16] His campaign has been extensively covered by most mainstream media sources, allowing him to eschew large campaign contributions and supporting political action committees (super PAC's), which Trump has criticized along with politicians who use them.[17][18] His abstention from political correctness has been a staple theme of his campaign, and has proved to be popular among his supporters.[19][20] Trump's most polarizing and widely reported statements have been on issues of immigration and border security, on which he has proposed deportation of all illegal immigrants, construction of a substantial wall on the Mexican–American border, and a temporary ban on alien Muslims entering the U.S.,[21] while speaking extensively about perceived issues pertaining to illegal immigrants traveling over the Mexican border into the U.S.[22][23]
Trump's campaign rallies have attracted large crowds, as well as public controversy. Some of the events have been marked by incidents of violence against protesters by Trump supporters, mistreatment of some journalists, and disruption by a large group of protesters who effectively shut down a major rally in Chicago. Trump said he himself wished to punch protesters, and has defended their ejection from his events, but has also said he hopes that he has not encouraged physical force to subdue or remove protesters.[24][25] Trump is opposed to the broad protection currently afforded to journalists against legal accusations of libel.[26][27]
As of April, Trump is the clear Republican frontrunner having won 20 states and one U.S. territory and accumulating 743 convention delegates.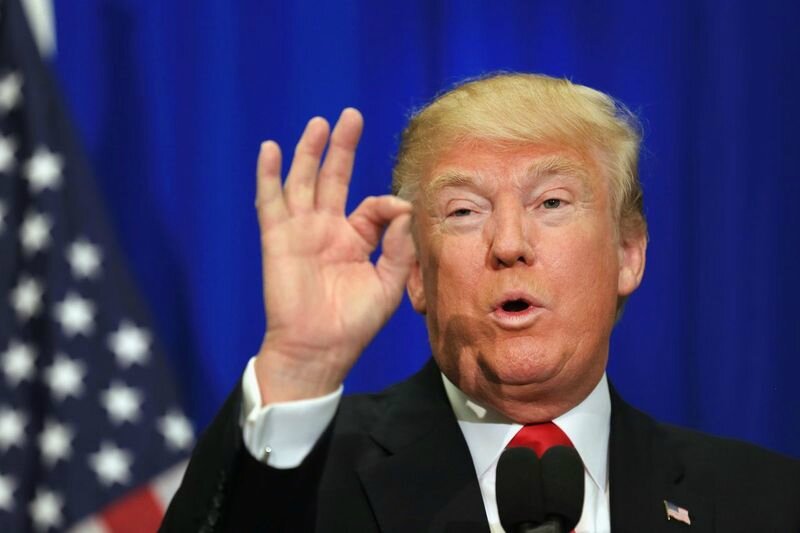 Background
Since the 1988 presidential election, Trump has been considered a potential candidate for President in nearly every election.[28][29][30] In October 1999, Trump declared himself a potential candidate for the Reform Party's presidential nomination,[31] but withdrew on February 14, 2000.[32] In 2004, Donald Trump identified as a Democrat, openly supported Hillary Clinton, and donated a large sum of money to Democratic groups.[33] Trump rejoined the Republican Party in 2009. In early 2011, presidential speculation reached its highest point and Trump began to take a lead in polls among Republican candidates in the 2012 election. However, Trump announced in May 2011 that he would not be a candidate for the office.[34][35]
At the 2011 Conservative Political Action Conference (CPAC), Trump said he is "pro-life" and "against gun control".[36][37][38] He has spoken before Tea Partysupporters.[39][40][41] In December 2008, Trump emerged as an early supporter of the 2009 government backed rescue plan for the U.S. auto industry which by 2012 gained the support of 56% of Americans (63% support in Michigan), according to a Pew Research Center poll.[42] Trump opposed granting "fast track" trade-negotiation authority to President Barack Obama to negotiate the international trade agreements.[43]
Trump expressed a desire for stronger negotiations with China on trade, plus the imposition of tariffs if necessary.[44][45][46] Trump has called for a policy of leadership to deal with the Organization of Petroleum Exporting Countries (OPEC) which he has criticized for causing high oil prices.[47][48]
In 2011, polls had Trump among the leading candidates. A Wall Street Journal/NBC News poll from March 2011 showed Trump in the lead for the Republican nomination for president of the United States.[49] A February 2011 Newsweek poll placed Trump within a few points of President Obama in a potential 2012 presidential contest, with many voters undecided.[50] A poll released in April 2011 by Public Policy Polling showed Trump having a nine-point lead in a potential contest for the Republican nomination for President of the United States while he was still actively considering a run.[51][52] In December 2011, Trump placed sixth in the "ten most admired men and women living of 2011" USA Today/Gallup telephone survey.[53] Trump has been a featured speaker at the Conservative Political Action Conference (CPAC).[54] In 2013, Trump researched a possible run for President of the United States in 2016.[55] In October 2013, New York Republicans suggested Trump should run for governor of the state in 2014.[56] In February 2015, Trump did not renew his television contract for The Apprentice, which raised speculation of his candidacy for president of the United States in 2016.[57]
History
2015
Announcement
Trump formally announced his candidacy for the upcoming race for president. in the 2016 election on June 16, 2015. His announcement was held at a campaign rally at Trump Tower in New York City. In the speech, Trump drew attention to domestic issues such as illegal immigration, offshoring of American jobs, the U.S. national debt, andIslamic terrorism, in a campaign strongly emphasized by the slogan "Make America Great Again."[63] Trump declared that he would self-fund his presidential campaign, and would refuse any money from donors and lobbyists.[64]
Following the announcement, most of the media's attention focused on Trump's comment on illegal immigrationwhere he stated: "When Mexico sends its people, they're not sending their best... They're sending people that have lots of problems, and they're bringing those problems with [them]. They're bringing drugs. They're bringing crime. They're rapists. And some, I assume, are good people."[65][66] Trump's statement was controversial and led several businesses and organizations—including NBC, Macy's, Univision, and NASCAR—to cut ties with Trump in the following days.[82] Reactions from other presidential candidates were mixed, with some Republican candidates disagreeing with the tone of Trump's remarks yet supporting the core idea that illegal immigration is an important campaign issue, while other Republican candidates, along with the leading Democratic candidates, condemning Trump's remarks and his policy-stances by saying that such comments are meant to inflame and incite.[88]
After the public backlash, Trump stood by his comments by citing news articles to back his claims up. Trump later clarified that he intended his comments to be aimed solely at the government of Mexico, specifically for using the insecure border as a means of transferring criminals out of their own country, and says he did not intend his comments to refer to immigrants themselves in general.[92]
Early campaign
After his announcement in New York, Trump immediately traveled to several states including Iowa and New Hampshire to campaign ahead of the 2016 Republican primaries.[96] In early July 2015, Trump also began campaigning in the West, giving rallies and speeches in Las Vegas and Los Angeles.[97][98] On July 23, he visited the Mexican border to highlight his stance with regards to opposition towards illegal immigration.[99]
In July, the Federal Election Commission released details of Trump's wealth and financial holdings that he submitted when he became a Republican presidential candidate. The report showed assets above $1.4 billion and outstanding debts of at least $265 million.[100][101] Shortly afterwards, Trump's campaign released a statement claiming his net worth to be over US$10 billion, but Forbes estimates that it is US$4 billion.[102]
On August 6, 2015, the first Republican primary debate took place on Fox News. During the debate, Trump notably refused to rule out a third-party candidacy. When pressed, he also refused to say he would endorse the eventual Republican nominee.[103] In September 2015, Trump eventually signed a pledge promising his allegiance to theRepublican Party.[104]
On August 21, 2015, the Federal Election Commission released a list of filings from super PACs backing candidates in the 2016 presidential race, which revealed Trump to be the only major presidential candidate among the Republican candidates who appeared not to have a super PAC supporting his candidacy.[105] Two months later, the Make America Great Again PAC, which had collected $1.74 million and spent around $500,000 on polling, consulting, and other activities,[106] was shut down after the Washington Post revealed multiple connections to the Trump campaign.[107][108]
John McCain comments
On July 18, 2015, Trump received criticism for saying of McCain: "He's not a war hero" and "He was a war hero because he was captured. I like people who weren't captured."[109][110] Trump acknowledged, "If somebody's a prisoner, I consider them a war hero"; however, he criticized "politicians like John McCain" for having "totally failed" on veterans issues and on securing the border.[111] Trump declared his support for veterans and pledged to "build the finest and most modern veterans hospitals in the world."[111][112][113]
Asked whether Trump should apologize to him for the remarks, McCain said on MSNBC: "I don't think so. I think he may owe an apology to the families of those who have sacrificed in conflict and those who have undergone the prison experience in serving their country."[114][115] Trump later stated that he did not owe the Senator an apology.[116][117][118] Investigative journalist Sharyl Attkisson detailed how the Washington Post had taken Trump's remarks on McCain out of context; she stated in part, "In fact, Trump's actual quote is the opposite of what is presented in the Post's first sentence."[119] Politifact rated Trump's claim that the quote was taken out of context as "mostly false".[120] Trump's comments generated disagreement among the other Republican presidential candidates, including Jeb Bush, Scott Walker,Rick Santorum, Rand Paul, Bobby Jindal, Mike Huckabee, and Chris Christie. Two candidates, George Pataki and Rick Perry, openly called on Trump to withdraw from the race over his comments. Conversely, two other candidates came to Trump's defense: Ben Carson and Ted Cruz, with Carson commenting that all differing opinions should be heard, and with Cruz opining that the party should stop its infighting altogether in order to unite.[121][122]
Border wall and illegal immigration
In his announcement speech, Trump promised that he would build "a great, great wall" on the United States–Mexico border, and has continued to lay emphasis on this proposal throughout his campaign, further stating that the construction of the wall would be paid for by Mexico.[65][123] He proposed a broader crack-down on illegal immigration, and in a July 6 statement claimed that the Mexican government is "forcing their most unwanted people into the United States"—"in many cases, criminals, drug dealers, rapists, etc."[124] In his first town hall meeting in Derry, New Hampshire on August 19, 2015, Trump stated: "Day 1 of my presidency, they're getting out and getting out fast."[125] These statements elicited considerable controversy.[124]
José Antonio Meade Kuribreña, Mexican Secretary of Foreign Affairs, said that Trump "is a politician who ignores the context in which it is participating", with regard to U.S. international economic relations and Trump's comments.[126] Trump's Republican rival Jeb Bush stated that "Trump is wrong on this" and "to make these extraordinarily kind of ugly comments is not reflective of the Republican Party."[127] Trump acknowledged that Republican National Committee Chairman Reince Priebus asked him to tone down his rhetoric on immigration reform and stated that his conversations with the RNC were "congratulatory" as well.[128]
At a July 2015 rally in Phoenix, Arizona, Trump was welcomed by the Maricopa County Sheriff Joe Arpaio, turning over the lecturn for part of his speech to a supporter whose child was killed in Los Angeles in 2008 by a Mexican-born gang member.[129] The brother of Kate Steinle, who was murdered in San Francisco by an illegal immigrant, has criticized Trump for politicizing his sister's death, telling Anderson Cooper Trump's platform "isn't exactly what our family believes in."[130][131]
U.S. Senator Ted Cruz praised Trump for giving attention to illegal immigration, while Congressman Steve King also defended Trump's remarks about illegal immigration and crime.[85][132][133] Conservative radio host Rush Limbaughhas repeatedly praised Trump's comments and his continued response to the backlash, saying that Trump has successfully changed the debate and brought the issue of immigration reform back to the foreground, while also not backing down against media scrutiny and businesses severing ties with him.[134][135][136] Former Arizona governor Jan Brewer said, "I believe that Mr. Trump is kind of telling it like it really, truly is."[133][137][138] On July 10, 2015, Limbaugh cited a report which he claimed supports Trump's remarks about illegal immigration and crime.[139]
Univision announced it would no longer carry broadcasts of the Miss USA Pageant.[140] In response, Trump indicated the matter would be handled by legal action, and followed through by filing a US$500 million lawsuit against Univision. The complaint asserts that Univision is attempting to suppress Trump's First Amendmentrights by putting pressure on his business ventures.[141] NBC announced it would not air the Miss Universe or Miss USA pageant.[142][143] Afterwards, the multinational media company Grupo Televisa severed ties with Trump,[144] as did Ora TV,[145] a television network partly owned by Mexican billionaire Carlos Slim.[146] Trump gave the rights to broadcast the Miss Universe and Miss USA Pageants to the Reelz Channel.[147]
Paulina Vega, the current Miss Universe and former Miss Colombia, said that, although she repudiates the immigration remarks of Trump,[148] who in turn called her a "hypocrite",[149] she cannot give up the crown because her contract forbids it, and she could be sued.[150]
Mexico,[151] Panama,[152] and Costa Rica[153] will not send representatives to the Miss Universe competition.
Macy's announced it would phase out its Trump-branded merchandise.[154] Serta, a mattress manufacturer, also decided to drop their business relationship with Trump.[155] NASCAR ended sponsorship with Trump by announcing it would not hold their post season awards banquet at the Trump National Doral Miami.[156]ESPN decided to relocate its ESPY Celebrity Golf Classic to the Pelican Hill Golf Club in Newport Beach. The charity golf tournament was once scheduled to be held at a golf course owned by Trump.[157]
Reuters journalists found that Trump's companies sought to import 1,100 workers on H-2B visas since 2000.[158] The Trump-owned Palm Beach, Florida resort ofMar-a-Lago is notable for the large number of guest workers employed.[159] Pew Research found 59% of Americans oppose the wall.[160]
Temporary Muslim ban proposal
In remarks made following the November 2015 Paris attacks, Trump stated that he would support a database tracking Muslims in the United States and expanded surveillance of mosques.[161][162] Trump's support for a database of American Muslims "drew sharp rebukes from his Republican presidential rivals and disbelief from legal experts."[163]
Trump justified his proposals by repeatedly saying that he recalled "thousands and thousands of people ... cheering" in Jersey City, New Jersey, when the World Trade Center towers fell on September 11, 2001.[161][164] Politifact noted that this statement was false, giving it a "Pants on Fire" rating and reporting that it was based on debunked and unproven rumors.[163][165] Jersey City Mayor Steve Fulop called Trump's claim "absurd" and said that Trump "has memory issues or willfully distorts the truth."[166]
On December 7, 2015, Trump further called for a "total and complete shutdown on Muslims entering the United States until our country's representatives can figure out what the hell is going on."[167]
Following these remarks, on December 8, 2015, the Pentagon issued a rare statement of concern, stating "anything that bolsters ISIL's narrative and pits the United States against the Muslim faith is certainly not only contrary to our values but contrary to our national security."[168] The Prime Minister of the United Kingdom, David Cameron, and the Prime Minister of France, Manuel Valls, both issued statements in response to Trump's press release condemning him.[169][170] However, Geert Wilders, leader of the right-wing Party for Freedom in the Netherlands applauded his remarks calling them "brave" and "good for Europe".[171] Among the European right wing, Nigel Farage of the UK Independence Party called it "perhaps a political mistake too far"[172] and even Marine Le Pen of the far-right French National Front distanced herself from the idea.[173] Israeli Prime Minister Benjamin Netanyahu also rejected Trump's proposal, prompting Trump to "postpone" a planned trip to Israel.[174]
Trump was widely criticized by leading Republican Party figures, including Republican National Committee chairman Reince Priebus[175] and Republican leaders in South Carolina and Iowa.[176]
During the controversy regarding his comments, Trump alleged that "We have places in London and other places that are so radicalized that the police are afraid for their own lives." London's Metropolitan Police Service responded by stating "we think it's important to state to Londoners that Mr Trump could not be more wrong." London Mayor Boris Johnson, a member of the UK Conservative Party, demanded an apology and described Trump's comments as "ill-informed" and "complete and utter nonsense."[177]
Following Trump's controversial comments on Muslim immigration, a petition with the title "Block Donald J Trump from UK entry"[178] was opened in the UK, on the Parliament's e-petition website, calling on the UK government's Home Office to ban him from entering the country. By 5:00 am on December 11, the total number of signatures exceeded 500,000,[179] far above the threshold of 100,000 required for a Parliamentary debate.[180] On January 18, the UK's House of Commonsdebated whether to ban Trump,[181] but ended without a vote, as such a decision is reserved to the Home Secretary.[182] The three-hour long debate saw members on all sides of parliament describe Trump as "a buffoon", "crazy", "offensive", and "a wazzock".[183]
Trump caused further controversy when he recounted an uncorroborated, apocryphal story about how U.S. generalJohn J. Pershing shot Muslim terrorists with pig's blood-dipped bullets in order to deter them during the Moro Rebellion. His comments were strongly denounced by the Council on American-Islamic Relations.[184][185][186][187]
Republican front-runner
Trump has consistently had high poll numbers during his candidacy.[188][189] A survey conducted by The Economist/YouGov released July 9, 2015, was the first major nationwide poll to show Trump as the 2016 Republican presidential front-runner.[190] A Suffolk/USA Today poll released on July 14, 2015, showed Trump with 17% support among Republican voters, with Jeb Bush at 14%.[191] A Washington Post/ABC News poll taken on July 16–19, showed Trump had 24% Republican support, over Scott Walker at 13%.[192] A CNN/ORC poll showed Trump in the lead at 18% support among Republican voters, over Jeb Bush at 15%,[14][193] and a CBS News poll from show of August 4ed Trump with 24% support, Bush second at 13%, and Walker third at 10%.[194]
A CNN/ORC poll taken August 13–16, 2015, in the swing states of Florida, Ohio and Pennsylvania showed Trump ahead of, or narrowly trailing Democratic candidate Hillary Clinton in direct match-ups in those states.[195] In Florida, Trump led by two points, and in both Ohio and Pennsylvania, he was within just five points of Clinton.[196]
Trump has had a persistently high popularity among Republican and leaning-Republican minority voters.[197][198][199][200] Surveys taken in late 2015 showed Trump polling unfavorably among women and non-white voters, with 64% of women viewing Trump unfavorably and 74% of non-white voters having a negative view of the candidate, according to a November 2015 ABC News/Washington Post poll.[201] A Public Religion Research Institute survey in November 2015 found that many of his supporters are working class voters with negative feelings towards migrants, as well as strong financial concerns.[202][203]
Numerous polls show Trump polling significantly favorably among minority and woman voters compared to past and present Republican presidential candidates, citing a September 2015 SurveyUSA poll. This poll also reports that Trump garners some support from voters outside of his party.[198][204] Trump's status as the consistent front-runner for the Republican nomination led to him being featured on the cover of Time magazine in August 2015, with the caption: "Deal with it."[205]
2016
Early caucuses and primaries
In the lead-up to the Iowa caucus, poll averages showed Trump as the front-runner with a roughly four percent lead.[206] Ted Cruz came in first in the vote count, ahead of Trump. Cruz, who campaigned strongly among evangelical Christians,[207] was supported by church pastors that coordinated a volunteer campaign to get out the vote.[208] Before the Iowa vote, an email from the Cruz campaign falsely implied that Ben Carson was about to quit the race, encouraging Carson's supporters to vote for Cruz instead.[209][210] Trump later posted on Twitter, "Many people voted for Cruz over Carson because of this Cruz fraud", and wrote, "Ted Cruz didn't win Iowa, he stole it."[211]
Following his loss in Iowa, Trump rebounded in the New Hampshire primary, coming in first place with 35% of the vote, the biggest victory in a New Hampshire Republican primary since at least 2000.[212][213] Trump "tapped into a deep well of anxiety among Republicans and independents in New Hampshire, according to exit polling data," running strongest among voters who feared "illegal immigrants, incipient economic turmoil and the threat of a terrorist attack in the United States."[212] Trump commented that in the run-up to the primary, his campaign had "learned a lot about ground games in a week."[214]
This was followed by another wide victory in South Carolina, furthering his lead among the Republican candidates.[215][216] He won the Nevada caucus on February 24 with a landslide 45.9% of the vote, his biggest victory yet; Marco Rubio placed second with 23.9%.[217][218]
Mitt Romney criticism
On February 24, 2016, former presidential candidate Mitt Romney called on Trump to release his tax returns, suggesting they contain a "bombshell".[219] On February 25, 2016, during the 10th Republican Party presidential debate, Trump claimed he would make the filings available after the conclusion of an Internal Revenue Service audit of the past "four to five years".[220]
Mitt Romney expanded his criticisms on March 3 by referring to Trump University, stating, "Donald Trump is a phony, a fraud. His promises are as worthless as a degree from Trump University. He's playing members of the American public for suckers: He gets a free ride to the White House, and all we get is a lousy hat."[221]
In contrast in 2012, while Romney was running for president, he praised Trump and sought his endorsement.[222][223][224][225] Regarding this endorsement, Romney remarked "That was a different time. He was a media personality and his biggest foible at that point was the whole birther thing."[226]
Rallies and crowds
Trump has held large rallies during his campaign,[227][228][229] routinely packing arenas and high school gymnasiums with crowds.[230] Trump "regularly drew thousands of people to rallies in Iowa, far more than any of his Republican rivals."[228]
A Trump rally on July 11, 2015, in Phoenix, Arizona, "drew several thousand people to the Phoenix Convention Center, making it one of the largest events for any candidate so far, though short of the crowd of 10,000 predicted by the Trump campaign."[231][232] Trump was introduced by Maricopa County Sheriff Joe Arpaio. During his speech, Trump invoked Richard Nixon's "silent majority" speech, saying "The silent majority is back."[231]
On August 21, Trump held a campaign rally at the Ladd-Peebles Stadium in Mobile, Alabama, with approximately 30,000 people in attendance.[233]
At a Trump campaign rally in Biloxi, Mississippi, in January 2016, YouTuber duo Diamond and Silk urged Democrats and independents in the audience to "ditch and switch"—i.e., to change their party affiliations to Republican in order to vote for Trump in closed primary states, which could be an important strategy for the Trump campaign.[234]
Trump's campaign released approximately 20,000 tickets for a 1,400-person venue for a January 7 rally in Burlington, Vermont. Ultimately, 2,000 people lined up at the door, and the campaign imposed a loyalty test at the door, admitting only Trump loyalists. Burlington's mayor and police chief criticized the campaign's handling of the event.[235][236]
Violence and expulsions at rallies
There have been verbal and physical confrontations between Trump supporters and protesters at Trump's campaign events. Rally attendees have physically provoked protesters and members of the press in many rallies.[237][238] Some have accused Trump's rhetoric of inciting the violence.[239][240][241][242][243]
There have also been incidents near Trump properties related to the campaign. On September 3, 2015, Keith Schiller, Trump's longtime bodyguard and director of security, took an anti-Trump sign from a protestor, Efraín Galicia, outside Trump Tower in Manhattan. A scuffle ensued and Schiller punched Galicia in the head.[244][245][246]Galicia and four others subsequently filed suit against Trump, Schiller, four other security guards, and the Trump Organization, in New York state court, alleging Trump's security guards had assaulted them while they were lawfully demonstrating on a public sidewalk.[246]
The New York Times reported that the most "potentially dangerous recurring act committed by ordinary voters in the 2016 presidential cycle" is protesting Trump at one of his rallies; when a protest breaks out at a rally, "Trump supporters typically begin shouting, pointing, jeering — and sometimes kicking or spitting — at the protester, surrounding the offender in a tight circle."[247] "Trump's tone often seems to encourage aggression," and he "has berated security guards for not ejecting protesters quickly enough."[247] Trump's Republican rivals have blamed Trump for fostering a climate of violence and escalating tension at campaign events.[248]
Trump himself has "not been quick to criticize the violence" at his rallies.[249][250] In November 2015, Trump said of a protester in Birmingham, Alabama, "Maybe he should have been roughed up, because it was absolutely disgusting what he was doing."[251] On February 1, at a rally in Cedar Rapids, Iowa, Trump told a crowd, "So if you see somebody getting ready to throw a tomato, knock the crap out of 'em, would you? Seriously. Okay? Just knock the hell — I promise you, I will pay for the legal fees. I promise. I promise."[252] On February 23, 2016, at a rally in Las Vegas, Trump reacted to a protester by saying "I love the old days — you know what they used to do to guys like that when they were in a place like this? They'd be carried out on a stretcher, folks." He added "I'd like to punch him in the face."[253][254][255]
During an August 25, 2015, press conference, Keith Schiller removed Univision anchor Jorge Ramos from the event.[256][257] On September 3, 2015, Schiller was filmed punching a protester.[258]
On February 27, in Valdosta, Georgia, 30 Valdosta State University students were asked to leave a college building in advance of a Trump speech.[259]
At a rally on February 29, veteran photojournalist Chris Morris was grabbed by his throat and thrown to the ground by a member of the Secret Service.[260]
In March 2016, Politico reported that the Trump campaign has hired plainclothes private security guards to preemptively remove potential protesters from rallies.[261]On March 1, Kashiya Nwanguma attended a Trump rally in Louisville, Kentucky, with two anti-Trump signs. She reported that Trump supporters ripped her signs away, and shouted racial epithets and "leftist scum" at her.[262] A video of violence and verbal abuse against her was released on March 8, 2016 (Super Tuesday).[250]
After a Jupiter, Florida, news conference on March 8, Corey Lewandowski, Trump's campaign manager, is reported to have accosted Breitbart News reporter Michelle Fields "...moving her out of the way and nearly bringing her down to the ground" and caused bruising to her arm.[263] On March 11, Kurt Bardella, the company spokesman and longtime public relations consultant for Breitbart News, resigned his position due to Breitbart's lack of support for their reporter. Other Breitbart staff members have resigned in support of the reporter. Fields has filed a police report.[264] The National Press Club subsequently released a statement expressing alarm about "the increasing attacks and threats against journalists covering the United States presidential campaign, particularly after multiple unsettling reports from Donald Trump events" and urged presidential campaigns to respect the freedom of the press.[265][266]
On March 10, a protester being led by police from a rally in Fayetteville, North Carolina, was sucker punched by John McGraw, a Trump supporter. McGraw later told the media that the next time he saw the protestor, "we might have to kill him."[267] McGraw was subsequently charged with assault and battery.[249][268][269] On Meet the Press, Trump said that he had instructed his team to look into paying McGraw's legal fees and said, "He obviously loves his country."[267]
On March 11, during a rally in St. Louis, violence broke out between supporters of Trump and protesters, resulting in 32 arrests.[270] A planned event for later that day in Chicago drew confrontations between supporters and protesters in the arena at the University of Illinois at Chicago before Trump could come out to speak, due to an unusually large amount of protesters, and the campaign cancelled the rally due to safety concerns. While first reports from the Trump campaign stated that law enforcement was consulted,[271] this was denied by local police officials.[272] Trump later stated that he made the decision himself, commenting "I didn't want to see people get hurt [so] I decided to postpone the rally."[273][274][275][276][277]
On March 12, Thomas Dimassimo, 32, attempted to rush the stage as Trump was speaking at a rally in Dayton, Ohio; Dimassimo was stopped by Secret Service agents and subsequently charged with the misdemeanors of disorderly conduct and inducing panic.[278] Trump subsequently claimed on his Twitter feed and at rallies that the stage-rusher was tied to the Islamic State of Iraq and the Levant (ISIS or ISIL) terrorist group, citing a hoax video (discovered by one of Trump's "Internet people") which appears to have been created by an Internet troll.[279][280]Charles Lister, a fellow at the Middle East Institute, said: "This is utterly farcical; the video is incontrovertibly fake and Trump's accusations about it being linked to ISIS serve only to underline the totality of his ignorance on this issue."[280]
On March 13, Trump refused to take responsibility for clashes at his campaign events, criticized protesters who have dogged his rallies, and demanded that police begin to arrest rally protesters.[281] His Kansas City rally was interrupted repeatedly by protesters in the arena while protesters outside the event were pepper sprayed by police.[282][283] In an effort to dissuade future protesters, Trump may begin to request that protesters be arrested, "Because then their lives are going to be ruined."[284]
During a March 17 interview with CNN, Trump predicted "you'd have riots" if were denied the Republican nomination despite having the most delegates at the convention.[285]
On March 18, between 500 and 600 people engaged in a stand-off outside of a rally in Salt Lake City, Utah. Police officers formed a human barricade to separate the two groups, whom largely remained non-violent. Towards the end of the rally, two anti-Trump protesters unsuccessfully attempted to breach the entrance of the venue. Secret Service officers secured the inside of the venue and roughly 40 police officers in riot gear repelled the protesters from entering the building.[286] No arrests were made.[287]
On March 19, in Tucson, Arizona, a police officer who attended a rally for Trump as a spectator reported that protesters at the entrance to the arena were "acting so outrageous" that he thought they would incite a "brawl". He indicated the protesters were verbally abusive towards attendees of the event and in some cases were screaming profanity at families with children. At a second event on the same day, protesters formed a human wall to block the entrance to the rally.[288] A protester was punched and violently stomped during the rally while being escorted out. With him was another protester wearing a Ku Klux Klan style hood. A Trump supporter was charged with assault with injury and released.[289] At the same rally, a video shared by a CBS News reporter showed Trump's campaign manager Corey Lewandowski grabbing another protester by the collar. The video clearly shows Lewandowski grabbing hold of the man's shirt though the Trump campaign has pointed to another man as the one having tugged the protester enough to jar him.[290]
On Tuesday, March 29, 2016, Trump campaign manager Corey Lewandowski was charged with battery for the physical assault of reporter Michelle Fields.[291]Trump advised Lewandowski to "never settle the case" and accused Fields of changing her story once the video of the incident surfaced.[292] On April 13, it was reported that a Florida prosecutor had decided not to prosecute Lewandowski.[293]
Media coverage
Trump has spent only a modest amount on advertising—$10 million through February 2016, far behind opponents such as Jeb Bush ($82 million), Marco Rubio ($55 million), and Ted Cruz ($22 million).[294]Trump, however, has a "mammoth advantage in free media."[294] From the beginning of his campaign through February 2016, Trump "earned close to $2 billion worth of media attention, about twice the all-in price of the most expensive presidential campaigns in history" and "twice the estimated $746 million that Hillary Clinton, the next best at earning media."[294] In February 2016 alone, Trump earned "$400 million worth of free media ..., about what John McCain spent on his entire 2008 presidential campaign" and twice the amount of the next two candidates combined.[294] According to data from the Tyndall Report, which tracks nightly news content, through February 2016, Trump alone accounted for more than a quarter of all 2016 election coverage on the evening newscasts of NBC, CBS and ABC, more than all the Democratic campaigns combined.[295][296][297] Observers have noted Trump's ability "to generate endless news coverage in the mainstream media almost at will."[298]
In response, a petition to "Stop promoting Donald Trump" accused the media of "relentlessly chasing ratings and devoting massive airtime to Donald Trump interviews and live coverage of his speeches" and quickly amassed over 200,000 signatures.[299] The media's coverage of Trump has generated some disagreement as to its effect on his campaign.[300] John Sides of The Washington Post said, "Trump is surging in the polls because the news media has consistently focused on him."[301] In a later analysis, The Washington Post said, "support for Trump appears to increase in spite of media coverage declining."[302] A December 2015 Rasmussen Reports survey showed that 47% of likely voters think most reporters are biased against Trump, 31% disagree, but 22% are not sure.[303] On September 21, 2015, Politico said, "blaming the press for the Trump surge neglects the salient fact that so much of the coverage of him has been darkly negative."[304] However, Barry Bennett – senior adviser to Donald Trump – said in response to the high amount of interviews Trump has given:
Well the demand is pretty high so it's hard not to do them. And it's free media. And we've literally gotten hundreds of millions of dollars worth of free media. No other candidate can talk when everybody is talking about you. So there's some strategic benefit to it.[305]
TV appearances and coverage of his tweets, rallies and controversial statements allowed Trump to dominate the media landscape on the cheap.[306] In an interview with CBS, Trump said of his campaign's plans to purchase advertising, "I think I'm probably wasting the money. But I'm $35 million under budget. Look, I was going to have 35 or 40 million spent by now. I haven't spent anything. I almost feel guilty ... I'm leading by, as you all say, a lot. You can take the CBS poll. You can take any poll and I'm winning by a lot. I don't think I need the ads. But I'm doing them. I almost feel guilty."[307][308][309]
In February 2016, in response to complaints from Trump that Fox News reporter Megan Kelly would be unfair to him in a Republican primary debate preceding theIowa caucuses, Fox released a sarcastic statement reading: "We learned from a secret back channel that the Ayatollah and Putin both intend to treat Donald Trump unfairly when they meet with him if he becomes president—a nefarious source tells us that Trump has his own secret plan to replace the Cabinet with his Twitterfollowers to see if he should even go to those meetings."[310] Trump responded by criticizing the "wise-guy press release" and withdrew from the debate, instead hosting a competing event in the state designed to raise money for wounded veterans on the day of the debate.[311][312]
Trump has frequently criticized the media, saying "the media is among the worst people I've ever met, I mean a pretty good percentage is really a terrible group of people. They write lies, they write false stories. They know they're false. It makes no difference. And frankly I don't call it thin-skinned, I'm angry."[313] He has constantly called upon his supporters to be "the silent majority", apparently referencing the media.[231] At a rally in Fort Worth, Texas, in February 2016, Trump stated that if elected he would "open up our libel laws so when they write purposely negative and horrible and false articles, we can sue them and win lots of money." Trump specifically referenced the New York Times and the Washington Post.[314][315]
In a March report by the Economist Intelligence Unit forecasting global risks for the month of April,[316] due to the "moderate probability" and "high impact" of a Trump presidency, his possible presidency ranked among the top 10 risks to global stability.[317]
People and groups
Trump family
Trump has called his wife Melania "my pollster" and said that she supports his presidential run.[318] Melania appeared at her husband's June 2015 campaign announcement and at the Fox News debate in Cleveland.[318] She has also conducted several televised interviews and appeared at a Trump rally in South Carolina along with other family members.[319] If Trump were to become president, the Slovenian-born Melania, a naturalized U.S. citizen, would become only the secondFirst Lady in history to be born outside the United States (after Louisa Adams, wife of John Quincy Adams).[320]
Fox News and Megyn Kelly
Trump was one of ten candidates in the main Fox News debate on August 6, 2015. At the beginning of the debate, Bret Baier asked the candidates whether, should they fail to win the Republican nomination, they would pledge not to run as an independent candidate and would support the eventual nominee. Trump was the only candidate who refused to pledge at that time. Baier questioned Trump about Obamacare,[321] Chris Wallace asked him about Mexican illegal immigrants,[322] andMegyn Kelly asked about how he would respond to a Clinton campaign saying that he was waging a "war on women".[323] Trump replied, "I think the big problem this country has is being politically correct."[324]
In a later interview with Don Lemon on CNN Tonight, Trump said that Kelly is a "lightweight" and had "blood coming out of her eyes, blood coming out of her... wherever."[325][326] Trump tweeted that his remark referred to Kelly's nose but was interpreted by critics as a reference to menstruation. RedState.com editor Erick Erickson rescinded Trump's invitation to a RedState meeting, saying "there are just real lines of decency a person running for President should not cross."[327] The Trump campaign issued a statement calling Erickson "a total loser" and saying that anyone who thought Trump's comment was a reference to menstruation was "a deviant".[328]
Trump retained the first place after the debate, with an NBC News poll showing him at 23% support[329] and a Reuters/Ipsos poll at 24%,[330] followed by Ted Cruz at 13% and Ben Carson at 11%.[331]
In March 2015, Trump resumed his feud with Fox News and Kelly in a number of Twitter messages disparaging Kelly and calling for a boycott of her show. Fox News responded with a statement saying that Trump's "extreme, sick obsession" with Kelly "is beneath the dignity of a presidential candidate" and that the network "continue[s] to fully support her throughout every day of Trump's endless barrage of crude and sexist verbal assaults."[332][333]
Some critics have characterized Trump as a misogynist, including Mitt Romney, The Christian Post, and a group of rabbis who boycotted his speech to theAmerican Israel Public Affairs Committee, among others.[334][335][336][337]
Veterans for a Strong America event
The Veterans for a Strong America (VSA) organized an event for Trump on September 15, 2015.[338] According to the Associated Press, the IRS revoked the nonprofit status of the organization, and its endorsement of Trump raised campaign finance questions as corporations are restricted to donating up to US$2,700 to a campaign, but the event exceeded that amount.[338] Other concerns raised include reports that the VSA does not appear to have any members or relation with veterans.[339] According to CNN, the group "sounds like a charity" and "touted having more than a half-million supporters" but is in fact a political action group; CNN "found scant evidence" of the number of supporters claimed by the group. The group's tax-exempt status had been revoked before the event; the group is appealing.[340]
Roger Stone
Following the dust-up with Megyn Kelly, Roger Stone, Trump's veteran political adviser, left his campaign citing "controversies involving personalities and provocative media fights."[341] Despite this, Stone revealed in an interview with National Review that he is "the ultimate Trump loyalist" and remains effusive about Trump and his campaign.[342]
Lindsey Graham
On July 21, Trump publicly gave out Senator Lindsey Graham's phone number, a practice known as doxing, during a speech in South Carolina as a response to Graham calling him a "jackass".[343][344] Graham released a statement on Twitter that he would "probably [be] getting a new phone"[343] and later released a video in which he destroyed his phone.[345] Gawker subsequently released a phone number belonging to Trump,[346] and he responded by setting the phone number to play a campaign message. Trump's response was described as "brilliant" and Time magazine said, "You can't out-troll the Donald."[347][348]
Jeb Bush
The Jeb Bush–Trump dynamic was one of the most fiery relationships among the Republican contenders.[349][350] Bush's campaign spent millions of dollars on anti-Trump ads,[351][352][353] while in response Trump mocked Jeb Bush with the lasting epithet that he was "low energy".[354][355][356] During an exchange with Jeb Bushin the ninth Republican primary debate, the audience (most favoring Bush) repeatedly booed Trump.[357][358][359][360] Trump scoffed that the audience was made up of "Jeb's special interests and lobbyists".[357][361] When asked whether he remained in favor of impeachment for George W. Bush for starting the Iraq War, Trump said, "They [the George W. Bush administration] lied. They said there were weapons of mass destruction. There were none. And they knew there were none. There were no weapons of mass destruction."[362][363]
Yet, according to The Washington Post, the most telling aspect of the Bush-Trump duel may have been the fact that, "No candidate in the race was prepared for GOP voters' opposition to immigration, with the exception of Trump," and the anti-illegal immigration sentiment that Trump tapped into throughout the campaign, and, tellingly, with the Act of Love.[364]
Twitter controversies
On November 22, 2015, Trump tweeted an image containing racially charged and inaccurate crime data between blacks and whites, cited to a non-existent group.[365][366][367] The image appears to have originated with a neo-Nazi Twitter account.[368] When later asked by Bill O'Reilly about his sharing of the image, Trump confirmed that he had personally retweeted the image and said that it came from "sources that are very credible."[365] The Annenberg Public Policy Center'sFactCheck.org reported that the image was a "bogus graphic" in which almost every figure was wrong, "some of them dramatically so."[365] Politifact gave the image a "pants on fire" rating, reporting that the image was "packed with racially loaded and incorrect murder statistics".[366]
Trump also raised controversy by "retweeting" posts from white supremacist Twitter feeds, including posts from a user with the handle "WhiteGenocideTM" (a reference to the white genocide conspiracy theory).[369][370][371] Trump's actions were criticized by the Southern Poverty Law Center, which monitors hate groups.[372]
Jared Taylor and David Duke
Jared Taylor, a leading white nationalist who is the editor of the white supremacist magazine American Renaissance, has been an early and ardent Trump supporter. In January 2016, ahead of the Iowa caucuses, Taylor recorded a pro-Trump robocall paid for by the "American National" super PAC. Trump did not repudiate Taylor.[373][374]
On February 24, 2016, the white nationalist David Duke, a former Ku Klux Klan grand dragon, said on his radio show that "voting against Donald Trump at this point, is really treason to your heritage" and that he supports Trump. Duke stated: "I'm not saying I endorse everything about Trump. In fact, I haven't formally endorsed him. But I do support his candidacy, and I support voting for him as a strategic action."[375][376] Duke said that he supported Trump in part because of his hard-line stance on immigration.[377]
In response, the Anti-Defamation League called on Trump to distance himself from white supremacists and disavow their ideology.[378][379] At a press conference on February 26, when questioned, Trump tersely disavowed himself of Duke's support. But in an interview with Jake Tapper on February 28, Trump repeatedly claimed to be ignorant of Duke and his support. Republican presidential rivals were quick to pounce on his wavering, with Senator Marco Rubio saying they make Trump un-electable. Others questioned his professed ignorance of Duke by pointing out that in 2000 Trump called him a "Klansman".[380][381] Trump later blamed the incident on a poor earpiece he was given by CNN. Later the same day Trump highlighted his previous terse disavowal of Duke in a tweet posted with a video on his Twitter account.[382]
Condemnation from Republican foreign-policy experts
An open letter from 120[383] conservative foreign-policy and national-security leaders, released in March 2016, condemned Trump as "fundamentally dishonest" and unfit to be president.[384][385] Signatories to the letter included a number of former high-level George W. Bush administration figures (such as former homeland security secretary Michael Chertoff, former deputy secretary of state Robert Zoellick, former homeland security adviser Frances Townsend and former undersecretary of defense Dov Zakheim), and others, including Eliot A. Cohen, Max Boot, and Daniel W. Drezner.[383][384][386] The signatories specifically objected to Trump's vision of American influence in the world, calling it "wildly inconsistent and unmoored in principle," and stated that "[Trump's] admiration for foreign dictators such as Vladimir Putin is unacceptable for the leader of the world's greatest democracy." The letter also stated that Trump's "embrace of the expansive use of torture is inexcusable" and that Trump's "attempts to deny positions he has unquestionably taken in the past, including on the 2003 Iraq war and the 2011 Libyan conflict" are "simply misrepresentation."[383] The signatories wrote that "as committed and loyal Republicans, we are unable to support a Party ticket with Mr. Trump at its head." Critics noted that the signers of the letter are "the exact type of establishment Republicans against whom Trump has been railing".[383]
In March 2016, another group of foreign policy experts published a letter in Foreign Policy magazine, entitled "Defending the Honor of the U.S. Military from Donald Trump," against Trump's statements that he would direct the military to torture suspected terrorists and their families and target the families of terrorists and other civilians, stating that "every reputable legal expert we know has deemed [these activities] illegal."[387] The letter was signed by both neoconservatives and prominentrealists, such as Andrew J. Bacevich and Richard K. Betts.[388]
Religious community
Trump identifies as a Presbyterian and in campaign speeches has routinely praised and sometimes carried the Bible, often saying that his own book Trump: The Art of the Deal is his "second-favorite book after the Bible."[389] On occasion, Trump has "reflected a degree of indifference" to religion, causing unease among somesocial conservatives.[390] For example, Trump drew criticism in August 2015 after he declined to cite his favorite biblical passage;[391] has said that he does not ask God for forgiveness;[390] and at one church campaign appearance mistook the communion plate for an offering plate.[392]
Yet Trump has solicited the support of religious leaders, inviting in September 2015 dozens of Christian and Jewish leaders to his New York City offices for a meeting and laying on of hands prayer gathering.[393] Trump has praised prominent national evangelical leaders of the Christian right, including Tony Perkins andRalph Reed,[394] and has received a blessing from Greek Orthodox priest Emmanuel Lemelson.[395] In January 2016, Trump received the endorsement of Liberty University president Jerry Falwell Jr., a prominent evangelical leader.[396]
Trump has drawn high levels of evangelical support in spite of holding political views and religious commitments at odds with many evangelicals. The New York Times reported that "one of the prime paradoxes of the 2016 election" is that "A twice-divorced candidate who has flaunted his adultery, praised Planned Parenthood and admitted to never asking for God's forgiveness is the favorite of the Christian right."[397] Jonathan Merritt, writing in the The Atlantic, stated that although Trump is "immodest, arrogant, foul-mouthed, money-obsessed, thrice-married, and until recently, pro-choice," he appealed to "growing anti-establishment sentiments held by many evangelical Christians."[398]
Conversely, some Christian religious leaders have critiqued Trump. After finishing a trip to the U.S.-Mexico border, Pope Francis, the leader of the Catholic Church, asked about Trump's proposal to build a large border wall, said: "A person who thinks only about building walls — wherever they may be — and not building bridges, is not Christian. This is not in the Gospel. As far as ... whether I would advise to vote or not to vote, I am not going to get involved in that. I say only that this man is not Christian if he said things like that."[399] Trump then called the pope's comments "disgraceful."[399] The Holy See Press Office later said that the pope's comments were "in no way a personal attack" but instead were a general comment on Catholic social teaching that was "not at all a specific question, limited to this case."[400]
Other figures have made more direct religious-based critiques of Trump, including from the American Christian right. Russell D. Moore, the head of the Southern Baptist Convention's public-policy arm, the Ethics and Religious Liberty Commission, is a prominent Trump critic and has argued that Christians should vote for a conservative third party or independent candidates if Trump wins the nomination.[401][402] On the Christian left, preacher and New York Daily News columnist Shaun King has criticized Trump's racially charged rhetoric as inconsistent with Christianity, arguing that "his words stand in stark contrast to the compassionate Christ of the Bible."[403] Two sociologists of religion at Baylor University wrote that support for Trump does not square with Christian commitment, arguing that Trump lacks compassion, appeals to fear and anger, tells public falsehoods, and fails to model Christian virtues such as sacrifice, altruism, and charity.[404]
Hispanic and Latino Americans
Trump's popularity among Hispanic and Latino Americans is low; a nationwide survey conducted in February 2016 showed that some 80% of Hispanic voters had an unfavorable view of Trump (including 70% who have a "very unfavorable" view), more than double the percentage of any other Republican candidate.[405] These low rankings are attributed to Trump's anti-illegal immigrant rhetoric.[405][406][407] Alarm at Trump's rise has prompted an increase in the number of eligible Latino immigrants who have chosen to naturalize to vote against Trump.[407] Despite his poor national standing with Hispanic and Latino Americans, he constantly garners higher numbers from them than each of his Republican rivals, along with other minority groups.[197][198] At the same time, Trump has received pockets of Hispanic support, winning around 45 percent (plus or minus 10 percentage points) of the Hispanic Republican vote in the Nevada Republican caucuses (where about 8% of Republican caucus-goers were Hispanic),[408][409] and receiving some support among Cuban Americans in Florida.[410]
Women
There is a large gender gap in support for Trump, with women significantly less likely to express support than men.[411][412] Trump has a history of making sexist comments about women and has made a number of them during his campaign.[413][414] A poll in March 2016 showed women favoring Hillary Clinton 55% to 35% over Trump.[413]
Conservative movement
Trump's populist political positions which favor protecting Social Security and Medicare while increasing taxes on wealthy hedge fund managers differ from those of establishment Republican positions which favor tax cuts and reform of entitlements.[6][415][416] Rush Limbaugh, while clearly favoring Ted Cruz, relishes the degree to which Trump has exposed the conservative establishment as an elitist self-interested clique.[417][418] National Review, on the other hand, strongly opposes him—releasing a January 2016 special issue "Against Trump" in opposition to Trump's bid for the presidency.[419][420][421] National Review has continued with publishing opinion, by Kevin D. Williamson denouncing the communities that support Trump.[422][423]
| | | |
| --- | --- | --- |
| " | They failed themselves. If you spend time in hardscrabble, white upstate New York, or eastern Kentucky, or my own native West Texas, and you take an honest look at the welfare dependency, the drug and alcohol addiction, the family anarchy—which is to say, the whelping of human children with all the respect and wisdom of a stray dog...[422] | " |
James Kirchick, also writing in National Review, continued with more abuse of the demographic which strongly supports Trump, accusing Trump of mainstreaming "white racial grievance."[423]
There is a split of opinion regarding Trump among conservative commentators, some of whom, such as John Feehery of the lobbying firm Quinn Gillespie & Associates, say, "if it weren't for all the idiotic and racist comments, he would be kind of a breath of fresh air. ... He's someone who wants to get stuff done—a politician who's not beholden to any kind of ideology, not beholden to special interests. I don't think he is George Wallace in his heart of hearts. He's not a strategic threat to the future of the republic. He's just a buffoon and a political opportunist", while others, such as William Kristol, publisher of The Weekly Standard, do consider Trump to be a serious threat to the republic and to the conservative movement. Newt Gingrich sees him a positive force, saying, "Make America Great Again" means your children shouldn't be killed, your schools should actually work, there should be jobs in your neighborhood. I think that would shatter the fabric of the Democratic Party, and expose the degree to which they have exploited poor people without actually helping them. I think it would be very healthy for America."[424]
Support base
Trump's supporters fall into all demographics and income levels, but he finds stronger support than other Republican candidates among working and middle-class white male voters with annual incomes of less than $50,000 and no college degree.[422] In contrast to higher-income, college-educated voters, this group, particularly those with less than a high-school education, has suffered a decline in their income in recent years.[425] According to the Washington Post, support for Trump is higher in areas with a higher mortality rate for middle-age white people.[426]
A large sample of interviews with more than 11,000 Republican-leaning respondents from August to December 2015 found that the state supporting Trump most isWest Virginia, followed by New York, followed by six Southern states.[427]
According to one study, support for Trump by voters is correlated positively with factors (in order of statistical significance) (1) being white and having no high school diploma; (2) reporting their ethnicity as "American" on the census; (3) living in a mobile home; (4) having a job in agriculture, construction, manufacturing or trade; (5) having a history of voting for segregationists such as George Wallace in 1968; (6) being born in the United States and being an evangelical Christian. It is correlated negatively with (1) participation in the labor force; (2) a history of voting for liberal Republicans and (3) having protestant European ancestry.[428]
Campaign misstatements
In December 2015, Politifact named "the many campaign misstatements of Donald Trump" as its "2015 Lie of the Year," noting at the time that 76 percent of Trump statements rated by the factchecking website were rated "Mostly False, False or Pants on Fire," more than any other politician.[429][430] Norman Ornstein, a scholar at the conservative American Enterprise Institute, has said that "Trump came into an environment that was ripe for bombastic, inflammatory, outrageous statements without having to suffer the consequences," citing the rise of partisan media, popular desensitization to inflammatory rhetoric, and "the assault on science and expertise" as contributing factors.[429]
In March 2016, a group of three reporters at Politico Magazine analyzed 4.6 hours of Trump stump speeches and press conferences over a five-day period and found "more than five dozen statements deemed mischaracterizations, exaggerations, or simply false".[431]
Historical analogies
Historical comparisons in American politics
Historians Donald T. Critchlow and Niall Ferguson and political scientist Daniel Klinghard have compared Trump to William Jennings Bryan, a populist who won the1896 Democratic nomination "after his demagogic "Cross of Gold" speech in which he denounced the gold standard."[432][433][434] Scholars and observers have also compared Trump to figures as varied as Andrew Jackson,[435][436][437][438] Joseph McCarthy,[439][440] Father Charles Coughlin,[439][441][442] Jesse Ventura,[439][443]Huey Long,[435][439][444] Richard Nixon,[445][446][447] George Wallace,[448][449] Charles Lindbergh,[450] Nelson Rockefeller,[435] and relatively recent presidential aspirants H. Ross Perot and Patrick J. Buchanan.[439]
Fascism comparisons
Columbia University professor emeritus Robert O. Paxton, a scholar of fascism, has cited a number of parallels between Trump's campaign and the fascist movements of the 20th century, including "nationalism, aggressive foreign policy, attacks on the enemies inside and out without much regard for due process"; an obsession with perceived national decline; and the belief that the country needs a strong leader.[451] Paxton has stated that Trump "shows a rather alarming willingness to use fascist themes and fascist styles"[452] but has also said that "there are many ways in which Trump differs from the fascists."[451] Paxton and other fascism scholars, including Roger Griffin and Stanley G. Payne, classify Trump as a right-wing populist rather than a neo-fascist.[453]
Former president of Mexico Vicente Fox asserted Trump was a fascist, while New York City Mayor Bill de Blasio described Trump as a "proto-fascist".[454][455] Others disagreed; John Cassidy of the New Yorker wrote that Trump was not a fascist, but rather was "the latest representative of an anti-immigrant, nativist American tradition that dates back at least to the Know-Nothings" of the 1830s and 1840s,"[456] while Max Ehrenfreund of the Washington Post wrote that Trump was not a fascist because, among other things, his message was individualist rather than collectivist and he has not "called for suspending the U.S. Constitution."[457] Gianni Riotta wrote in The Atlantic that Trump's "xenophobic rhetoric, his demagoguery, and his populist appeals to citizens' economic anxieties certainly borrow from the fascist playbook" but that she was "dead sure" that Trump is not a fascist because he has no "rational, violent plan to obliterate democracy." Riotta commented that the "fascist" label unfairly "indicts [Trump's] supporters, who have real grievances that mainstream politicians ignore at their peril."[458]
Hitler and Mussolini comparisons
On Saturday, March 5, 2016, at a rally in Orlando, Florida, and in rallies since, Trump asked the crowd to raise their right hand to pledge their commitment to voting for him in the upcoming primaries. Afterwards Trump said "Don't forget you all raised your hands. You swore. Bad things happen if you don't live up to what you just did." before continuing with his speech.[459] As photos of the pledge circulated online, many pointed out the visual seemed reminiscent of scenes from Nazi Germany.[460][461] Former Anti-Defamation League leader Abe Foxman said that Trump was knowingly evoking fascist symbolism at his rallies.[462] Mexican President Enrique Pena Nieto also compared Trump's rhetoric to that of Hitler and Mussolini in an interview with Mexican newspaper Excélsior.[463][464][465]
On March 8, Trump was asked about the comparisons on The Today Show and Morning Joe. He responded on The Today Show by saying,
I don't know about the Hitler comparison. I haven't heard that, but it's a terrible comparison. I'm not happy about that certainly.[466] Well, I think it's ridiculous. I mean, we're having such a great time. Sometimes, we'll do it for fun. They'll start screaming at me: 'Do the swearing! Do the swearing!' I mean, they're having such a great time. ... Honestly, until this phone call, I didn't know it was a problem.[466][467]
When asked if he would stop asking for the pledge, Trump responded by saying that he would look into the matter.[466][468][469]
On February 28, Trump re-tweeted a Mussolini quote that had been posted from a parody account. When informed that the source of the quote was Mussolini, Trump responded that the origin of the quote made no difference.[470]
Comparisons to fictional characters
Pulitzer-winning columnist Kathleen Parker and others have likened Trump to Berzelius "Buzz" Windrip, the nativist demagogue in Sinclair Lewis's 1935 political novel It Can't Happen Here.[471][472][473][474]
Tiananmen Square
During the Republican debate on March 10, Trump stirred controversy by saying that the Chinese government's 1989 massacre of unarmed civilians in Tiananmen Square was "horrible" and "vicious" but also "shows you the power of strength." When challenged, he claimed he was not endorsing the massacre and proceeded to characterize the protest as a riot: "I was not endorsing it. I said that is a strong, powerful government that put it down with strength. And then they kept down the riot. It was a horrible thing. It doesn't mean at all I was endorsing it."[475]
Campaign finances
As of January 31, 2016, the Trump campaign had received $7.5 million in donations from individuals, $250,318 donated directly by Donald Trump himself, and a $17.78-million loan from the candidate.[476]The loaned amount can be repaid to Trump as other donations arrive.[476] According to reports to the FEC, the campaign had $1.9 million on hand as of February 20.[477]
Trump has said: "I am self-funding my campaign and therefore I will not be controlled by the donors, special interests and lobbyists who have corrupted our politics and politicians for far too long. I have disavowed all super PAC's, requested the return of all donations made to said PAC's, and I am calling on all presidential candidates to do the same."[17][18][478] Politifact reports that Trump's claims that he is "self-funding" his campaign are "half-true." By the end of 2015, Trump's campaign had raised $19.4 million, with almost $13 million (about 66%) coming in the form of a loan from Trump himself and the remainder (34%) coming from others' contributions.[479]
The announcement came a day after a main super PAC backing Trump closed amid scrutiny about its relationship to the campaign itself.[107][108] Although Trump attended at least two Make America Great Again Super PAC fundraising events, including one at the home of his daughter Ivanka's in laws,[107] he later said he never gave his endorsement to the super PAC or any of the other eight super PAC's supporting his run.[480][481] In addition to a $100,000 donation from Ivanka Trump's mother-in-law, the Make America Great Again super PAC accepted $1 million in seed money from casino mogul and longtime Trump business partner Phil Ruffin who, according to FEC filings, gave the money just two weeks after the super PAC was established; the super PAC spent about $500,000 on polling, consulting, and legal expenses before shutting down in the wake ofWashington Post coverage.[106] Trump has told campaign crowds he does not want monetary donations and criticized other candidates for accepting PAC financing.[108]
Political positions
Trump has stated that he is a "conservative Republican".[482] From an external perspective, German Vice Chancellor Sigmar Gabriel has termed Trump a right-wing populist similar to Marine Le Pen, Geert Wilders or Silvio Berlusconi.[483]
Endorsements
See also
Notes
References
Commentaires sur DONALD TRUMP PRESIDENTIAL CAMPAIGN 2016