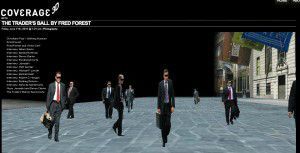 MUSEE DE L'HERMITAGE
FRED FOREST, INVITE AU FESTIVAL INTERNATIONAL DE CYBERART DE SAINT PETERSBOURG

19-25 novembre 2011

FRED FOREST INVITE D'HONNEUR DE L'EDITION 2011 DE CYBERFEST

Фред Форест, БАЛЛ ТРЕЙДЕРОВ, презентация
Художник Фред Форест, знаменитый пионер современного искусства, расскажет о своей жизни и творчестве и представит проект «Балл трейдеров». Почти все уже знают, что глобальный ЭКОНОМИЧЕСКИЙ КРИЗИС является не обычным следствием нормальной деятельности свободного рынка, а неизбежным результатом расчетливых ФИНАНСОВЫХ ОПЕРАЦИЙ в крупном масштабе, проведенных влиятельными банковскими учреждениями, которые, действуя исключительно в духе филантропии и щедрости, поставили целые страны на грань банкротства в своем преследовании обеспечения благосостояния народов мира. Со свойственной ему едкой иронией, Форест создал этот проект, чтобы поделиться своей точкой зрения на финансовый кризис.

Fred Forest, THE TRADERS BALL, Presentation

The artist Fred Forest, famous pioneer of contemporary art, will talk about his life and art and present his project "The Traders Ball". Almost everybody knows by now that the global ECONOMIC CRISIS is not merely an effect of the normal workings of the free market, but the inevitable result of calculated FINANCIAL OPERATIONS on a massive scale, undertaken by powerful banking institutions, which out of a pure spirit of philanthropy and generosity, have brought entire nations to the brink of bankruptcy, in pursuit of the wellbeing of the people of the world. With his trademark over-the-top irony, Forest launched this project sharing his point of view on the financial crisis.

18/05/2010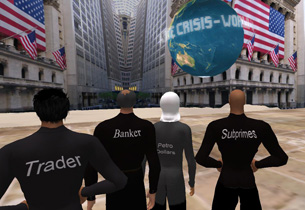 TRADERS'S BALL FRED FOREST LAB GALLERY

THE TRADERS'BALL, FRED FOREST, THE LAB GALLERY NEW YORK AND SECOND LIFE


FRED FOREST VOUS INVITE AU GRAND BAL DES TRADERS

THE LAB GALLERY

LEXINGTON AT 47 TH STREET

THE ROGER SMITH HÔTEL NEW YORK

Tout continue de plus bel, comme avant, alors, allons –y gaiement !

Un artiste Français, FRED FOREST , vous invite à venir danser sur Seconde Life, et sous les fenêtres de Wall Street, au Grand Bal populaire des traders qu'il organise pour fêter joyeusement la crise mondiale.

Plus on est de fous, plus on s'amuse...
target=_new>http://www.thetraders.com



Retransmission en direct de Manhattan à partir de 18 heures le vendredi 11 juin 2010, heure locale newyorkaise, depuis The Lab Gallery, située au coin de Lexington et de la 47e rue, où vous pouvez vous rendre en tenue festive sur place ou, encore, en nous retrouvant, où que vous soyez dans le monde, sur Second Life :

http://slurl.com/secondlife/Conway%203/170/137/26

Le rappeur New Yorkais JAMALSKI est chargé d'assurer sur place la rythmique musicale et la synchronisation déhanchée des danseurs par des intermittences syncopées

Beaucoup savent maintenant que les crises économiques mondiales ne sont pas des catastrophes naturelles sur lesquels nous ne pouvons rien, mais bien des opérations ECONOMIQUES d'envergure, calculées et exécutées, par quelques BANQUES PRIVEES puissantes, qui vont jusqu'à menacer aujourd'hui des ETATS DE FAILLITE totale, pour assurer... le bien être des populations planétaires.

Rejoignez-nous pour participer tous très nombreux physiquement sur place à la " Lab Gallery "ou a distance sur Second Life.

-----------------------------------------

MODE D'EMPLOI : quand votre avatar débarque sur la SLURL sous la planète du monde qui tourne au-dessus de lui, cliquer sur la planète en crise et choisir la danse 4 pour être en synchro avec les autres danseurs. Mettez vous-même la musique en appuyant sur le bouton du menu au bas de la page à droite illustre par deux notes musicales.

--------------------------------------------

Le bal des traders se poursuivra jour après jour jusqu'au 2 juillet 2010.


The Trader's Ball est une production

FERDINAND CORTE

ferdinand(corte)™

energy@ferdinandcorte.com
Tel : +33 6 87 45 60 94

avec la complicité de :
Robert C. Morgan,
Matt Semler,
Nathalie Angles,
Michael F Leruth.
et l'association capucine.net

Bande annonce
target=_new>http://www.thetradersball.com
SOURCE ET PUBLICITE GRATUITE POUR CE FESTIVAL CYBERFEST 2011 EN RUSSIE A ST.PETERSBOURG
November 18 – 23, 2011
5th International festival of cybernetic art – CYBERFEST 2011
will take place in St.Petersburg, Russia.
Organizers: St. Petersburg Branch of the National Center for Contemporary Arts, Saint Petersburg Arts Project (New York), CYLAND MediaLab. General sponsor: OneMarketData, New York. Supported by: Ministry of Culture of the Russian Federation, Committee for Culture of St. Petersburg. Curators: Anna Frants, Marina Koldobskaya, Sofia Kudryavtseva, Viktoria Ilyushkina. Video Curators: Boshko Boskovic, Natalia Prikhodko, Yulia Garbuzova. Board: Dmitry Ozerkov (The State Hermitage), Anna Yermolayeva (ZKM), Fred Forest, Olesya Turkina (State Russian Museum)
CYBERFEST 2011's theme is: "Show Us Your Tongue!"
Curatorial title embodying this years' participants who all address the philosophical question: "Are new technologies capable of creating a new language of art – or will it remain the mocker that would everlastingly stick out its tongue?" Marina Koldobskaya (More on the site).
Festival program features: exhibition of interactive installations and objects, music and media performances, movies and media opera, video programs, talks and workshops.
Participants: more than 80 notable participants from 12 countries, including USA, Canada, France, Germany, Belgium, Austria, countries of former Yugoslavia. Among St. Petersburg artists are Marina Alekseyeva and Boris Kazakov (winners of the Kuryokhin Prize 2010), Anna Frants, Elena Gubanova, Masha Sha, Anton Chumak. From Moscow come artists Alexandra Dementieva, Iraida Yusupova and Alexander Dolgin, Blue Noses Group and Art Business Consulting. Also, Kazan artists from the legendary Prometheus center and Yekaterinburg group Where Dogs Run are featured. International talents include theremin queen Dorit Chrysler (Austria-USA), the patriarch of conceptual music Phill Niblock (USA), and musical sculptor Peter Vogel (Germany).
CYBERFEST 2011 venues:
- Exhibition of interactive media installations and objects will take place in the Youth Educational Center of The State Hermitage Museum, which will be opened for the first time after major overhaul. Here will be shown musical sculpture by the European media art classic Peter Vogel, installation with interactive kisses by Canadian artists Jean Dubois & Chloe Lefebvre, "Contact Field" installation by Alexandra Dementieva, which was already shown at Venice this year, new work by Blue Noses group "New media-titres", specially made for Cyberfest and much more.
- Kuryokhin Modern Art Center will host the "Long evening of media art" on Nivember 19th. Media performances, music program, movies and video art will be presented at the big stage. Dorit Chrysler, international electronic music star, will give her first performance at the theremin homeland, with the audiovisual performance "Dorit Chrysler and Theremin". Phill Niblock – one of the founders and pillars of the conceptual music since 1970s, together with Katherine Liberovskaya will show a selection of his most famous performances. Famous Moscow mysteriographers Iraida Yusupova and Alexander Dolgin will show "Birds" movie for the first time. Rising star of Moscow video art Maxim Swischev prepared a large scale work "Don Quixote". Small halls will feature a program of video art works from the ex-Yugoslavia countries "Not So Distant Memory", collected by one of the most famous video art curators Boshko Boskovic. Young curators Natalia Prikhodko and Yulia Garbuzova in collaboration with Victoria Ilyushkina will present a video program "Action Plan/Reaction".
- A set of movies, talks and performances will take place at Gallery of Experimental Sound, Pushkina street, building 10. Audience will see film by Iraida Yusupova and Alexander Dolgin "Ambient" and media opera "Webs & Spaces". Artist and art theorist Dmitry Bulatov will show and comment a set of videos named "Evolution Haute Couture: art in the post biology age"
- This year, St.Petersburg galleries from the Association of actual art galleries started working together with Cyberfest. Art Rephlex gallery shows festival's special object – sound art collection by Phill Niblock. In Dmitry Semyonov gallery audience can see exhibition of Moscow media artists – Lidya Vitkovskaya and Denis Mikhaylov.
Educational program: Within the frame of educational program visitors can listen to lectures by Dorit Chrysler, Phill Niblock, Canadian "engineer in art" David St-Onge. The only Russia's specialist in bio-art Dmitry Bulatov will lecture about sci art and technological unconscious. Workshop on creative sound art programming will be hosted by American Art Group Z-interface. Traditionally, Daniil Frants will do a workshop for children during the festival.
CYBERFEST 2011 participants:
Alban Muja, Alexander Dolgin, Alexandra Dementieva, Alienor Dauchez, Anastasia Maksimova, Andrea Acosta, Anna Frants, Anton Chumak, ABC group, Boris Glamocanin, Borjana Mrdja, Boris Kazakov, Blue Noses (Alexander Shaburov, Viacheslav Mizin), Daniil Frants, Danilo Prnjat, Dasha Khlapova, David St-Onge, Denis Mikhailov, Dmitry Bulatov, Dmitry Shubin, Dorit Chrysler, Elena Gubanova, Floran Mattei, Francis Alys, Garik Vinogradov, Iraida Yusupova, Ivan Argote, Jean Dubois & Chloe Lefebvre, Jerome Gras, Katherine Liberovskaya, Leban-Kleindienst, Maks Ilyhin, Manya Alexeeva, Marija Djordevic, Michel De Broin, Mladen Miljanovic, Pavel Snov, Peter Vogel, Phill Niblock, Renata Poljak, Sandra Dukic, Sergey Komarov, Uliya Garbuzova, Nataliya Prihodko, Villy Melnikov, Vladimir Kitlyar and Toys Market, "Where dogs run", Zoran Poposki…
There will be an online video stream of main Cyberfest happenings at www.cyberfest.ru.
More info about program details and changes at www.cyberfest.ru and fb CYBERFEST.
---
---